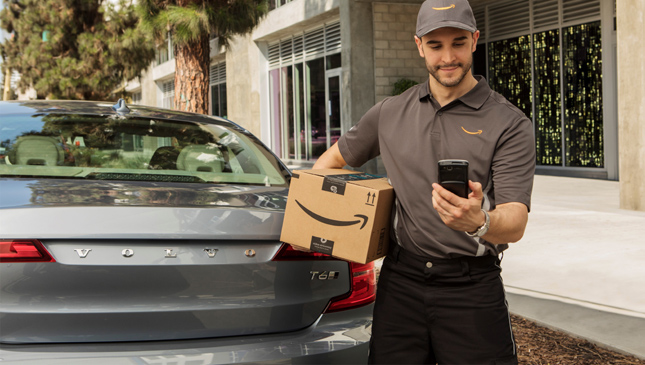 Would you trust a stranger with your car? And we don't mean leaving the keys with a valet or grabbing a bite while someone washes your ride--a person, or more specifically a company, will have the ability to unlock it remotely.
According to a report by The Verge, Amazon has announced a delivery service that does just that via the magic of connected tech. This comes following a similar concept (albeit with homes and smart locks instead of cars), which was launched by the company in 2017.
Peter Larsen, Amazon vice president of delivery technology, says it has always been in the company's pipeline. "We were really happy with the response to in-home delivery," he said. "What we wanted to do--and it was part of the plan all along--is how we take that beyond the home."
Continue reading below ↓
Recommended Videos
So how will it work? Simple: A courier will unlock a person's vehicle via a cloud-connected smart camera and will leave the owner's package inside. Users will need to have their ride added to their "Amazon Key app," and must provide a description of their car. This will initially be available only to Amazon Prime subscribers.
The project is in partnership with General Motors and Volvo (the service is currently limited to their cars 2015 onward), and is already rolling out across 37 cities in the US. All three companies have agreed on a two-year trial period. "Neither the automakers nor Amazon hope to make additional money with the service, but instead saw it as an added convenience they can market to their customers, the source added," the report says.
Amazon has said it plans to add more car brands to its delivery service over time. So, do you consider this a convenience or a security risk?