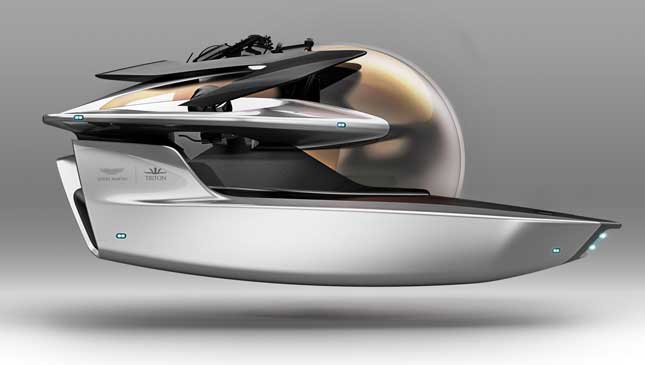 Carmakers—truly exclusive carmakers—measure their customers' wealth in number of vehicles owned. Famously, a typical Bugatti Chiron buyer will have 64 cars, three jets, three helicopters, and a yacht. But, pray tell, how many submarines?
Aston Martin has clearly eyed a gap in the market. Or this is our first hint that James Bond will be sub-aquatic in his next film, while staying fully on-brand with his favorite sports car company. Anyway, today has yielded Project Neptune, an actual Aston submarine.
ADVERTISEMENT - CONTINUE READING BELOW ↓
It's the first product from Aston Martin Consulting—think of it as a design subsidiary like Porsche's—and it's seen the DB11 maker team up with Triton Submarines LLC, a company renowned for its "state-of-the-art submersibles."
ADVERTISEMENT - CONTINUE READING BELOW ↓
Recommended Videos
That means sub-aquatic vehicles for researchers, explorers and—naturally—superyacht owners. Whether that's for nefarious reasons or simply an extremely extravagant way of getting to shore, we're not sure.
"Project Neptune is defined by its sleek, elegant exterior," says Aston's design boss, Marek Reichman. "We have used forms and proportions that express the same devotion to design, engineering and beauty that shape our cars, such as the Aston Martin Valkyrie hypercar project."
It's certainly striking. And like no submersible we've seen before. There's a hint of the AM37 Aston speedboat in some of its sculpting, and no hint whatsoever of either Gerry Anderson's Stingray or The Beatles' yellow submarine, our only two reference points in this particular corner of the market.
ADVERTISEMENT - CONTINUE READING BELOW ↓
There's no word of cost nor propulsion method, but expect these to come: Aston and Triton appear to have full intent on selling these, and Aston came true on production of the AM37. The companies describe themselves as "ready to introduce the new generation of yacht owners to the deep ocean, greatly enhancing the superyacht ownership experience."
What do you think? Is this the next must-have on your lottery win list?
ADVERTISEMENT - CONTINUE READING BELOW ↓
NOTE: This article first appeared on TopGear.com. Minor edits have been made.