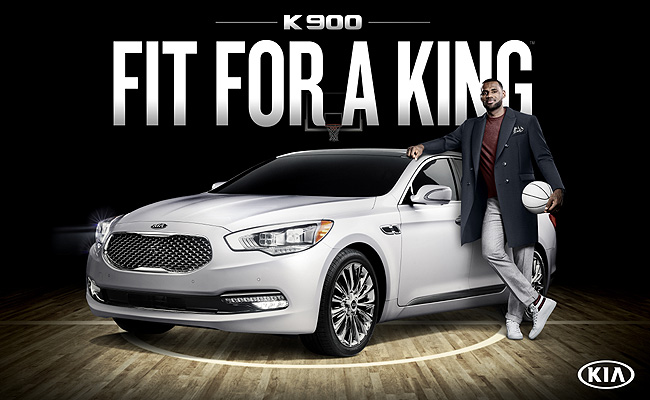 Forget about Kia's Philippine distributor joking about its brand image by appointing boxer Manny Pacquiao to be the playing coach of its newly assembled Philippine Basketball Association team--Kia's US distributor takes marketing and basketball seriously.
If you follow LeBron James through his Instagram account, you must have noticed that back in August, he posted a photo of himself driving a Kia K9 (K900 in the US). Apparently, that was a hint of the NBA player's association with the Korean carmaker since he has recently been introduced as the company's first-ever luxury ambassador.
In a multi-year partnership with Kia Motors America, James has been appointed as the K900 luxury ambassador after he reached out to Kia--the official automotive partner of the NBA--for a firsthand experience with its flagship sedan.
"I was a K900 driver and fan before we decided to become partners, so I'm really excited to be Kia's first-ever luxury ambassador," said James. "This partnership is about the power of great style and performance. Kia and the K900 are out to challenge conventional wisdom and show people how to think differently, and I can relate to that. For me, a partnership has to be authentic and real to who I am, and that's what makes this one so special."
Continue reading below ↓
Recommended Videos
In his new role, James joins Kia's roster of high-profile ambassadors, which includes fellow NBA player Blake Griffin, tennis player Rafael Nadal, and golfer Michelle Wie.
"As fans of the game of basketball, we were honored to learn that one of today's most influential athletes and tastemakers recognized that something different was going on at Kia and wanted to check out our new flagship sedan," said Kia Motor America's vice president for marketing communications Tim Chaney. "Like Kia, LeBron James does not want to be confined by conventions or traditional definitions, and as our K900 luxury ambassador, his star power will cause people to question everything they think they know about our brand."
We wonder how much Kia is paying LeBron to do this gig. What do you think?