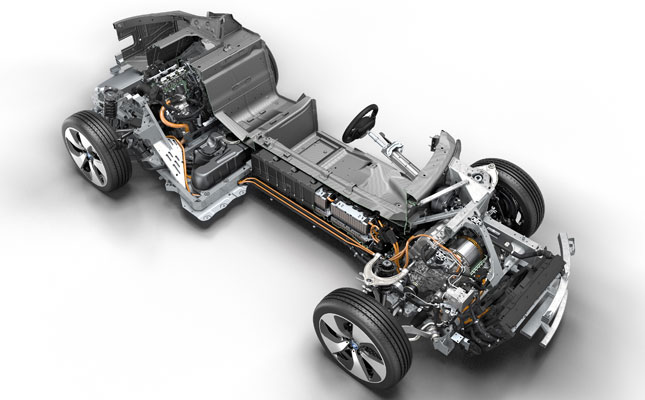 For three straight years, Ford's brilliant 1.0-liter EcoBoost motor reigned as International Engine of the Year. But BMW, no stranger to winning awards for its great engines, eclipsed Ford's mighty mill by a few points this year. In the end, the 1.5-liter hybrid powertrain of the BMW i8 took top honors in this hotly contested competition.
Combining supercar abilities with remarkable fuel economy--not to mention low emissions--the i8 engine was hard to beat. It could sip gasoline at a rate of 47.62km/L! Yet it still delivers 231hp from the gas engine to the rear wheels, while sending 131hp from the electric motor to the front wheels. This gives the i8 an all-wheel-drive setup, and lets it sprint from 0 to 100kph in 4.4 seconds.
Besides the International Engine of the Year award, BMW's TwinPower Turbo three-cylinder gasoline engine also won the award in its class, the 1.4 to 1.8-liter category, as well as the New Engine division. Combined with the win of the M3/M4's 3.0-liter's twin-turbo straight-six engine in its category, BMW garnered a total of four awards in this year's competition.
"This is a fitting victory for what is a remarkable powertrain," enthused Dean Slavnich, co-chairman of the International Engine of the Year Awards. "The i8 is a supercar of the future that's available today. Progressive, emotive and environmentally responsible, here is a creation that proves the transport of tomorrow can be very, very exciting."
Continue reading below ↓
Recommended Videos
In the sub 1.0-liter category, the EcoBoost mill was uncontested. It garnered 2.5 times more points than its nearest competitor, the 999cc three-cylinder turbo seen in the Opel Adam and Corsa. Given its enduring power and versatility, we're certain this isn't the last we've seen of Ford's small wonder of a powerplant in these awards.
Here are the complete results.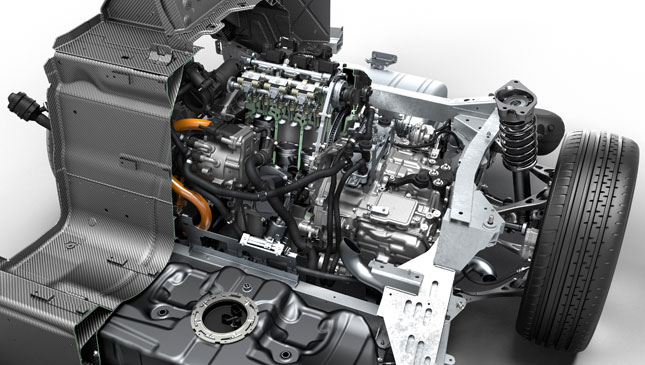 2015 INTERNATIONAL ENGINE OF THE YEAR
Winner - BMW 1.5-liter three-cylinder hybrid (i8), 274 points
Runners-up - Ford 999cc three-cylinder turbo (Fiesta, B-Max, Focus, C-Max, Grand C-Max, EcoSport, Tourneo Connect), 267 points; PSA Peugeot Citroen 1.2-liter three-cylinder turbo (Peugeot 208, 308, Citroen C3, DS3, C3 Picasso, C4 Cactus, C4 DS4), 222 points; Ferrari 4.5-liter V8 (458 Italia, 458 Speciale), 221 points; Mercedes-AMG 2.0-liter turbo (A45 AMG, CLA 45 AMG, GLA45 AMG), 177 points; Tesla full-electric powertrain (Model S), 157 points; BMW M 3.0-liter twin-turbo six-cylinder (M3, M4), 133 points; McLaren 3.8-liter twin-turbo V8 (675LT, 650S, 625C, 12C), 93 points; Audi 2.5-liter five-cylinder turbo (RS3, RS Q3), 81 points
BEST NEW ENGINE
Winner - BMW 1.5-liter three-cylinder hybrid (i8), 339 points
Runners-up - Mercedes-AMG 4.0-liter biturbo V8 (GT, GT S, C63 AMG, C63 S AMG), 209 points; Ferrari 3.9-liter biturbo V8 (California), 159 points; Volvo 2.0-liter four-cylinder supercharged turbo (S60, V60, XC60, XC90), 135 points; Volkswagen 1.4-liter TSI hybrid (Golf GTE, Audi A3 e-tron), 134 points; General Motors 999cc three-cylinder turbo (Opel Adam, Corsa), 132 points
BEST GREEN ENGINE
Winner - Tesla full electric powertrain (Model S), 239 points
Runners-up - BMW 1.5-liter three-cylinder hybrid (i8), 191 points; BMW full electric powertrain (i3), 109 points; Volkswagen 1.4-liter TSI hybrid (Golf GTE, Audi A3 e-tron), 98 points; Ford 999cc three-cylinder turbo (Fiesta, B-Max, Focus, C-Max, Grand C-Max, EcoSport, Tourneo Connect), 95 points; BMW 647cc two-cylinder electric-gasoline range extender (i3), 64 points
BEST PERFORMANCE ENGINE
Winner - Ferrari 4.5-liter V8 (458 Italia, 458 Speciale), 236 points
Runners-up - Mercedes-AMG 4.0-liter biturbo V8 (GT, GT S, C63 AMG, C63 S AMG), 148 points; Porsche 3.8-liter boxer (911 Carrera S, 911 GTS, 911 GT3, Cayman GT4), 129 points; Ferrari 6.3-liter V12 (F12 Berlinetta), 125 points; McLaren 3.8-liter twin-turbo V8 (675LT, 650S, 625C, 12C), 112 points; Fiat Chrysler 6.2-liter supercharged V8 (Dodge Charger Hellcat, Challenger Hellcat), 75 points
BEST SUB 1.0-LITER ENGINE
Winner - Ford 999cc three-cylinder turbo (Fiesta, B-Max, Focus, C-Max, Grand C-Max, EcoSport, Tourneo Connect), 444 points
Runners-up - General Motors 999cc three-cylinder turbo (Opel Adam, Corsa), 176 points; BMW 647cc two-cylinder electric-gasoline range extender (i3), 163 points; Volkswagen 999cc three-cylinder turbo (Audi A1), 138 points; Fiat 875cc two-cylinder turbo (500, Panda, 500L, Punto, Alfa Romeo Mito, Lancia Ypsilon), 132 points; Renault/Nissan 898cc three-cylinder TCE turbo (Clio, Captur, Twingo, Dacia Sandero, Logan MPV, Smart ForTwo, ForFour), 119 points
BEST 1-LITER TO 1.4-LITER ENGINE
Winner - PSA Peugeot Citroen 1.2-liter three-cylinder turbo (208, 308, Citroen C3, DS3, C3 Picasso, C4 Cactus, C4, DS4), 243 points
Runners-up - Volkswagen 1.4-liter TSI Twincharger (Eos, CC, Tiguan, Seat Ibiza, Alhambra, Ibiza Cupra), 174 points; Volkswagen 1.4-liter TSI electric-gasoline hybrid (Golf GTE, Audi e-tron), 165 points; Volkswagen 1.4-liter TSI (Polo, Beetle, Golf, Golf Sportsvan, Scirocco, Passat, Jetta, Tiguan, Eos, Audi A1, A3, Q3, Seat Leon, Altea, Toledo, Skoda Rapid, Yeti, Octavia, Superb), 149 points; Volkswagen 1.4-liter TSI ACT (Golf, Passat, Audi A1, A3, Seat Ibiza), 132 points; Volkswagen 1.2-liter TSI (Polo, Golf, Beetle, Jetta, Golf Sportsvan, Audi A3, Seat Ibiza, Toledo, Leon, Altea, Skoda Fabia, Roomster, Rapid, Octavia, Yeti), 123 points
BEST 1.4 TO 1.8-LITER ENGINE
Winner - BMW 1.5-liter three-cylinder hybrid (i8), 262 points
Runners-up - Audi 1.8-liter TFSI (A1, A3, A4, A5, A6, Seat Leon FR, Skoda Octavia, Superb, Yeti, Volkswagen Jetta, Passat), 177 points; BMW/PSA Peugeot Citroen 1.6-liter turbo petrol (Mini Clubman Cooper S, Countryman Cooper S, Coupe/Roadster Cooper S, Paceman Cooper S, Clubman Cooper JCW, Coupe/Roadster Cooper JCW, Countryman Cooper JCW, Paceman Cooper JCW, Peugeot 208, 3008, 508, 308, 5008, 208 GTI, RCZ, RCZ R, Citroen DS3, DS3 Racing, C4, DS4 Racing, C4 Picasso/Grand Picasso, C5, DS5), 158 points; BMW 1.5-liter three-cylinder turbo petrol (116i, 218i, Mini Cooper), 151 points; Ford 1.5-liter turbo (Mondeo, Focus, C-Max/Grand C-Max, Kuga), 80 points; Fiat Chrysler 1.75-liter DI turbo (Alfa Romeo 4C), 78 points
BEST 1.8-LITER TO 2.0-LITER ENGINE
Winner - Mercedes-AMG 2.0-liter turbo (A45 AMG, CLA 45 AMG, GLA45 AMG), 298 points
Runners-up - Audi 2.0-liter four-cylinder TFSI (S1, TT, TT S, S3, A4, A5, A6, A7, Q3, Q5, Seat Leon Cupra, Alhambra, Skoda Octavia RS, Superb, Volkswagen Golf GTI, Golf R, Golf R Cabriolet, Beetle Passat, Eos, CC, Scirocco, Scirocco R, Tiguan), 226 points; BMW 2.0-liter four-cylinder twin-turbo diesel (X1 16d, 118d, 218d, 316d, 318d, 418d, 518d, X1 18d, 120d, 220d, 520d, X1 20d, 125d, 225d, 420d, 425d, 525d, X1 25d, 320d, X3 1d, X3 20d, X4 20d, X5 25d, Mini Cooper SD, Clubman Cooper SD, Countryman Cooper SD, Coupe/Roadster Cooper SD, Paceman Cooper SD), 150 points; Volvo 2.0-liter four-cylinder supercharged turbo (S60, V60, XC60, XC90), 134 points; Volkswagen 2.0-liter TDI (Audi A3, TT, A4, A5, Q3, Q5, A6, Seat Leon, Leon FR, Ibiza FR, Altea, Alhambra, Skoda Octavia, Octavia RS, Superb, Yeti, Volkswagen Beetle, Eos, Jetta, Golf, Golf GTD, Scirocco, Passat, Tiguan, CC), 118 points; BMW 2.0-liter four-cylinder twin-turbo petrol (125i, 220i, 220xd, 225i, 320i, 420i, 520i, Z4 20i, 228i, 328i, 428i, 528i, Z4 28i, X1 28i, X4 28i, Z4 18i, X1 18i), 111 points
BEST 2.0-LITER TO 2.5-LITER ENGINE
Winner - Audi 2.5-liter five-cylinder turbo (RS3, RS Q3), 347 points
Runners-up - Mazda 2.2-liter diesel (3, 6, CX-5), 347 points; Ford 2.3-liter turbo (Mustang, Explorer, Lincoln MKC), 184 points; Mercedes-Benz 2.1-liter CDI (A200, B200, E200, GLA200, GLK200, GLC200, A220, CLA220, B220, C220, E220, CLS220, GLA220, GLK220, GLC220, C250, E250, CLS250, SLK250, GLK250, GLC250, ML250, Infiniti Q50, Q70, Jeep Compass, Patriot), 151 points; Mercedes-Benz 2.1-liter electric-diesel hybrid (C300 Hybrid, E300 Hybrid, S300 Hybrid), 125 points; Subaru 2.5-liter turbo (Impreza STI), 117 points
BEST 2.5-LITER TO 3.0-LITER ENGINE
Winner - BMW M 3.0-liter twin-turbo six-cylinder (M3, M4), 246 points
Runners-up - BMW 3.0-liter six-cylinder twin-turbo (M135i, 235i, 640i, 335i, 435i, Z4 35i, 535i, X3 35i, X4 35i, X5 35i, X6 35i, Z4 35is), 178 points; Porsche 2.7-liter boxer (Boxster, Cayman), 158 points; BMW 3.0-liter six-cylinder twin-turbo diesel (330d, 430d, 530d, X3 30d, X4 30d, X5 30d, X6 30d, 335d, 435d, 535d, 640d, X3 35d, X4 35d, X5 40d, X6 40d), 148 points; BMW M Performance 3.0-liter six-cylinder tri-turbo diesel (M550d, X5 M50d, X6 M50D), 124 points; Volkswagen 3.0-liter V6 TDI (Audi A4, A5, A6, A7, A8, Q5, SQ5, Q7, Volkswagen Touareg, Phaeton, Porsche Panamera, Macan S Diesel, Cayenne), 111 points
BEST 3.0-LITER TO 4.0-LITER ENGINE
Winner - McLaren 3.8-liter twin-turbo V8 (675LT, 650S, 625C, 12C), 258 points
Runners-up - Mercedes-AMG 4.0-liter biturbo V8 (GT, GT S, C63 AMG, C63 S AMG), 239 points; Porsche 3.8-liter boxer (911 Carrera S, 911 GTS, 911 GT3, Cayman GT4), 214 points; Ferrari 3.9-liter biturbo V8 (California), 187 points; Audi/Bentley 4.0-liter TFSI (Audi S6, S7, RS6, RS7, A8, S8, Bentley Continental GT, GT3-R, Flying Spur), 163 points; Porsche 3.8-liter boxer turbo (911 Turbo, 911 Turbo S), 131 points
BEST ABOVE 4.0-LITER ENGINE
Winner - Ferrari 4.5-liter V8 (458 Italia, 458 Speciale), 295 points
Runners-up - Ferrari 6.3-liter V12 (F12 Berlinetta), 222 points; Mercedes-AMG 5.5-liter V8 turbo (E63 AMG, CLS63 AMG, ML63 AMG, GLE63 AMG, E63 AMG, CLS65 AMG, S63 AMG, SL63 AMG, G63 AMG, GL63 AMG), 140 points; BMW M 4.4-liter V8 twin-turbo (M5, M6), 110 points; Jaguar Land Rover 5.0-liter V8 supercharged (Jaguar F-Type, XFR-S, XJ-R, XF, XJ, Range Rover, Range Rover Sport), 98 points; Fiat Chrysler 6.2-liter V8 supercharged (Dodge Charger Hellcat, Challenger Hellcat), 95 points