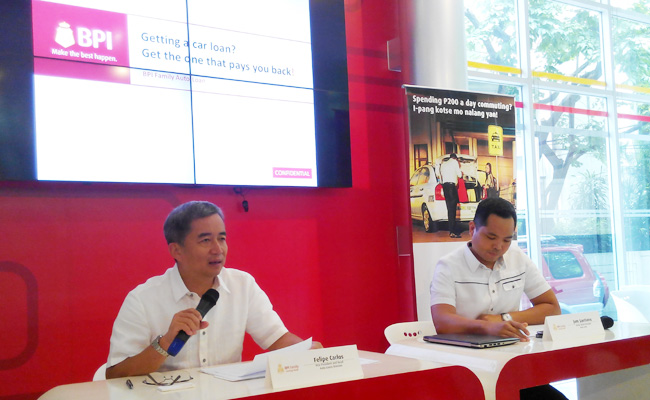 BPI Family Savings Bank's auto loans division has launched a new and supposedly unrivaled innovation in the auto-financing industry: a car loan that pays you back.
BPI-FSB's 10% Money Back promo gives customers a 10% rebate on their loan amount. It is exclusively available to those who avail of a five-year (60-month) loan. Customers can enjoy the rebate once the loan is fully paid and if another loan will be availed within six months. If no new loan is availed, customers can still enjoy a 5% rebate.
According to BPI-FSB auto loans division senior product manager Jam Santiano, customers can think of the rebate as an investment, giving them the opportunity to set aside money while they're paying for the loan, which they can later use to buy a brand-new car.
Santiano also compared the earning rate of the rebate--which is reportedly around 17% per annum--with that of a standard time deposit rate, which is only 1% per annum.
"The BPI Family Auto Loan 10% Money Back promo aims to change how people see cars and car loans, as it is now an investment," added BPI-FSB vice president and auto loans division head Felipe Carlos. "With this new promo, you get to immediately realize the benefits of having a new car, get to own a highly useful asset, and eventually get a sizable amount at the end of the loan. As we change the way you think about car financing and provide you with an innovative and easier way to get your brand-new car, you can get the best out of life."
Continue reading below ↓
Recommended Videos
BPI-FSB's 10% Money Back promo is ongoing until August 31, 2014.
Photo by Patrick Everett Tadeo