Philippine Allied Enterprises Corporation, the official distributor of Bridgestone tires in the country, will be showcasing the measures it has taken to "help ensure a healthy environment for current and future generations" with its Ecommunity exhibit at the Glorietta Activity Center this weekend.
The two-day exhibit on August 9 and 10 will feature Bridgestone's Ecopia line of fuel-efficient and environment-friendly tires. PAEC will also showcase its Bandag brand of retread tires and its corporate social responsibility efforts like the tree-planting project at the La Mesa ecopark, the creation of a 400sqm playground in Montalban, Rizal, which made use of junk tires, and an educational tour of the Mind Museum with 30 underprivileged children from Angono, Rizal.
Serving as the highlight of the exhibit are the seminars that will be conducted by experts in their respective fields and industries. The subjects will range from an overview of the Metropolitan Manila Development Authority to be hosted by the agency's assistant general manager for operations Attorney Emerson Carlos, to car customization and bodykit by Atoy Llave of Atoy Customs.
The Ecommunity exhibit will also have a playground and art area, simulator games, photo booths and food concessionaires.
"Rest assured that we will continually strive to provide our customers with the best products and services," said PAEC president and chief executive Marc Tagle. "Just as our pursuit for excellence doesn't stop, we wholeheartedly continue the journey to make the world a better place."
Below is the schedule for the seminars.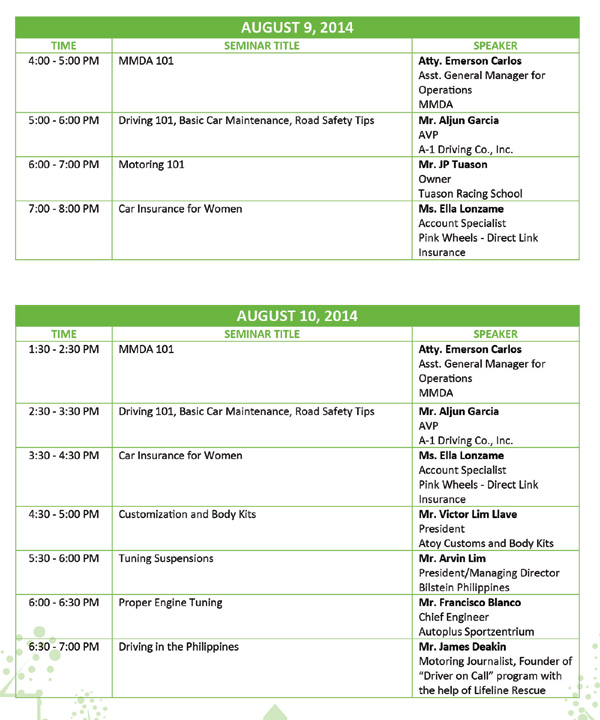 ADVERTISEMENT - CONTINUE READING BELOW ↓
ADVERTISEMENT - CONTINUE READING BELOW ↓
Recommended Videos