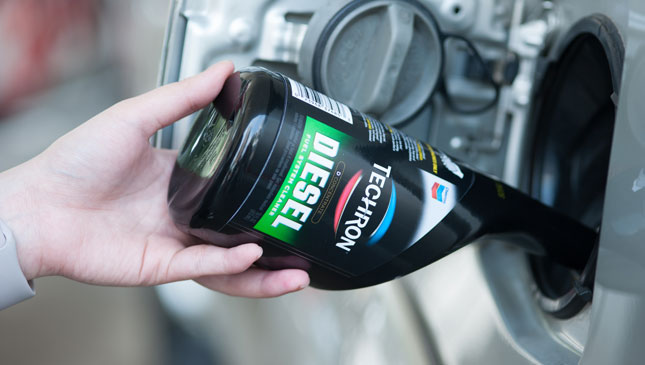 Is your ride diesel-powered? Each time you drive it, carbon deposits can build up and suppress your engine's performance. These deposits can be found on the exterior tips of the injector, and inside the nozzle spray channels. Depending on how your engine bay is laid out, it can be difficult to spot this happening at first glance.
Today, Caltex has revealed a new product that promises to solve this problem with minimal effort. Chevron Philippines, the country's distributor of Caltex products, launched the Techron D Concentrate diesel fuel additive. It promises to deep clean your engine in one tankful.
According to Caltex, one 16oz bottle of Techron D Concentrate can treat up to 80 liters of fuel every 5,000km. Plus, it's effective with older engines as well as the latest CRDI powertrains.
"Caltex always aims to help its customers keep their vehicles at their optimal performance. With Techron D Concentrate, our customers will enjoy its benefits and precision clean technology feature to have superior clean engines," said Finished Lubricants area business manager Hafiz Nasar.
ADVERTISEMENT - CONTINUE READING BELOW ↓
If you want to give your diesel mill a thorough clean, you can pick up a 16oz bottle of Techron D Concentrate for a promo price of P355 until March 31. For gasoline engines, Techron Concentrate Plus is also available.
ADVERTISEMENT - CONTINUE READING BELOW ↓
Recommended Videos