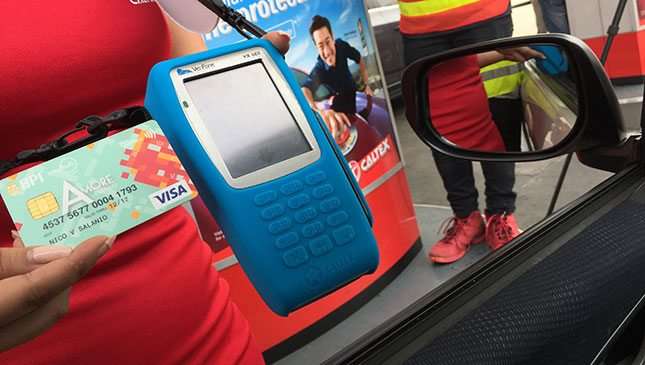 How many times have you put off gassing up because you're in a hurry? The thought of waiting for your turn at the pump and then waiting again to sign your credit card receipt after hours of slogging through rush-hour traffic doesn't sound appealing.
Here's one solution that might shorten your transactions. Caltex recently introduced its partnership with Visa for its new payWave feature. You'll still have to queue, but at least you won't have to wait as long when it comes to paying. All it takes is a quick wave or tap of your Visa card on the reader and you're off. You don't have to sign a receipt or enter a PIN number. Just a simple wave of your Visa payWave-enabled card and you're good to go.
Continue reading below ↓
Recommended Videos
We know what you're thinking: Is it secure? Well, to appease skeptics, Visa assures the public that you don't have to worry that someone will be able to hack into your credit or debit card. Payment cards with the Visa payWave feature have an embedded chip that securely transmits payments to the reader. You'll only need to hold your card within 4cm of the terminal, and once the indicator light turns green, you have a successful transaction. You may or may not opt to get a receipt. An added security feature is that it only processes fees up to P2,000 per transaction. For amounts higher than P2,000, customers need to enter a PIN or sign the receipt.
Visa cardholders will also be happy to know that every purchase of Caltex fuels at participating stations entitles them to a raffle entry to the 'Drive Away a Millionaire' promo. Each transaction using Visa payWave yields three raffle entries for every P500 spent. The grand prize is a Visa card credit worth P1 million. If you don't land the top prize, you still have a chance to win a Starcash card with P100,000. Three of these will be given away. Promo is ongoing until July 31 this year.
These days, every little bit of convenience helps.