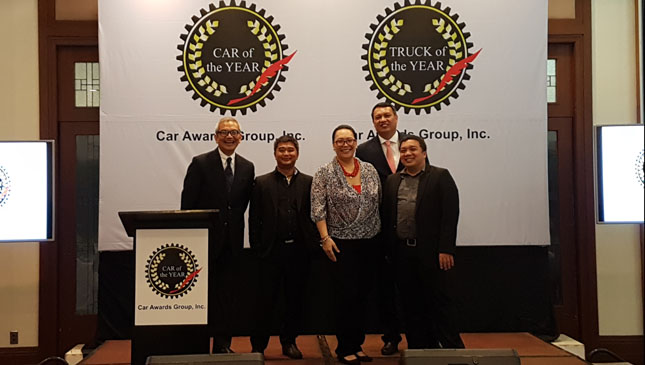 In his second term as president of the Car Awards Group, Incorporated (CAGI), Atty. Robby Consunji promised the country's automotive brands that whichever vehicle will bag the much-coveted Car of the Year (COTY) and Truck of the Year awards (TOTY) trophies for 2016, will have more to brag about than the winners in the past.
Consunji's pronouncements were anchored on two things: First, CAGI members will be using two new Vbox performance data loggers for the vehicle testing for better accuracy in results; and second, the CAGI board has decided to implement new rules in the qualitative and quantitative testing procedures.
"I am going to show you why this award is desirable because it was a result of a fair and unbiased process," he stressed during the launch of the 2016 COTY-TOTY awards held recently at the Manila Polo Club.
After almost nine years of using the Racelogic Driftbox data logger, the CAGI technical committee has shifted to the Vbox based on the recommendation of the auditing firm KPMG R.G. Manabat since the latter provides better accuracy. The two new data loggers also yield faster results by downloading them on a mobile phone or laptop via Bluetooth using the app Vbox Sport.
ADVERTISEMENT - CONTINUE READING BELOW ↓
CAGI members subject the latest car models to acceleration, braking and handling performance tests as part of its qualitative and quantitative assessment procedures. However, Consunji gave a few hints on the new rules being implemented in the testing procedures, and among them is randomly assigning cars to its members for testing to avoid partiality in the process. "We want to have consistency in judging," he said.
It can be recalled that the four-door Mazda 2 Skyactiv R bagged the overall Car of the Year title in 2015, along with the Nissan Navara pickup which brought home the overall Truck of the Year trophy.
A total of 78 2015 model-year cars and trucks were subjected to stringent performance and handling testing procedures, undertaken by motoring journalists from different media entities in November last year.
This year's COTY and TOTY-Philippines vehicle test-fest will be conducted at the plush Nuvali development in Santa Rosa, Laguna, on October 25 - 26, and November 7 - 8. Awards night will be by the end of November, according to Consunji. This year's sponsors include Ayala Land, KPMG R.G. Manabat and Worldbex.
Wanna check your crystal ball on which vehicle will be named COTY and TOTY winners for this year?
ADVERTISEMENT - CONTINUE READING BELOW ↓
Recommended Videos