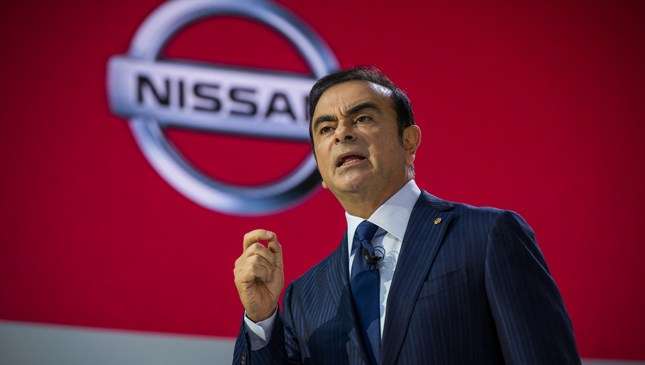 Big changes are happening over at Nissan HQ. The Japanese carmaker has just announced that Carlos Ghosn will step down as the company's chief executive officer (CEO). He will be replaced the current co-CEO and representative director Hiroto Saikawa beginning April 1. Ghosn will stay on as the chairman of the board of directors, and he will seek to renew his post at the company's general shareholders meeting this coming June.
Ghosn stated on his resignation: "I am confident that the management team I have developed at Nissan over the past 18 years has the talent and experience to meet the company's operational and strategic goals. Having recently taken on new responsibilities at Mitsubishi Motors, and taking into consideration the upcoming Nissan general shareholders meeting, I have decided that the time is right for Hiroto Saikawa to succeed me as Nissan's CEO."
Continue reading below ↓
Recommended Videos
He continued, "As Nissan's chairman, I will continue to supervise and guide the company, both independently and within the Renault-Nissan-Mitsubishi Alliance. This planned change will also allow me to devote more time and energy to managing the strategic and operational evolution and expansion of the Alliance and ensuring that all its members benefit from the competitive advantages that its scale will deliver. I am committed to supporting the Alliance as it evolves and expands, and will continue to serve each member of the Alliance wherever and whenever necessary."
Saikawa, meanwhile, said: "I would like to thank Mr. Ghosn and the Nissan board for entrusting me with this new responsibility. Under Mr. Ghosn's chairmanship and with the support of the excellent leadership team that has been built at Nissan, my focus will be delivering our company's continued performance and development and on continuing Nissan's contribution to the success of the Alliance."
Ghosn, who has been Nissan's CEO since 2001, has overseen many changes in the company, including last year's acquisition of Mitsubishi. His decision to step down comes after the expansion of the former Renault-Nissan Alliance to include Mitsubishi. As chairman, he'll focus his energies towards the expansion and supervision of the Alliance.
How do you guys think this change of leadership will affect Nissan's future?