Now on its 11th year, the highly-anticipated Cebu Auto Show or simply, CAS, is back to host another spectacular automotive trade event. It officially opened its doors today at the SM Seaside Skyhall. A grand opening launch was held at the lobby of the show venue.
Among those who were present were Director Eduardo Montealto, Jr. of the LTFRB Region VII, Michael Vincent Chua of DCPH Cebu, and car enthusiast Bunny Pages along with Worldbex Services International's key executives including Founding Chairman Joseph Ang, Marketing Director Jon Richmond Ang, Managing Director Jill Aithnie Ang, Executive Director Archt. Francisco Flameño Jr., and Levi Ang.
As the regional leg of the iconic Manila International Auto Show in Manila, car lovers and industry players can expect no less than an equally electrifying experience. In particular, this year's CAS seeks to address to the growing demand for cars and automotive services that cater to the entrepreneurial and leisure pursuits of today's market.
ADVERTISEMENT - CONTINUE READING BELOW ↓
Bannering the theme of "Work and Play," CAS 2018 currently houses an extensive line-up of exhibitors that will each showcase cutting-edge automotive vehicles, products, and services that are designed to enhance and facilitate the way people pursue their professional or entrepreneurial agenda as well as elevate the way individuals live out their chosen lifestyles.
To give everyone an idea of the automotive extravaganza that awaits at CAS 2018, here's a rundown of the must-see highlights this year's show:
Swap meets and car competitions
Aside from housing the most comprehensive line-up of automotive exhibitors, CAS is best known for hosting some of the most exciting car competitions and jaw-dropping collector exhibits. This year, attesting to CAS's growing prestige as the region's top-billing auto show is the incredible number of categories that make up the 2018 CAS Custom and Classic Car Competitions.
To be exact, participants will be fighting it out in 21 categories. Currently, countless individual car owners and various car clubs from across the region have already signed up to compete. Among the categories at this year's competition include Best Race-Inspired, Best Model, Best Lighting Display, Best Korean, Best Japanese, Best Interior, Best in Tuning, Best in Stock, Best in Stance, Best in Show, Best in Rims, Best in Paint, Best in Japanese Domestic Market, Best in Flush, Best in Engine, Best in Color, Best in Classic, Best in Body Kit, Best in 4x4, Best Exterior, and Best European.
ADVERTISEMENT - CONTINUE READING BELOW ↓
Recommended Videos
On the other hand, also another highly-sought after event at CAS is the Diecast car model swap meet. In partnership with the Cebu Diecast Car Collectors (CDCC), an affiliate of the Diecast Car Collectors of the Philippines, the Diecast car model swap meet allows diecast collectors a chance to gather and showcase their car collectibles. This year, to celebrate the 11th year of CAS, the CDCC created two custom model cars and five of each model will be raffled off to lucky show attendees.
Exhibitions from top car brands
In line with this year's theme of "Work and Play", headlining the exhibitions at CAS 2018 are vehicles that are ideal for business use such as Foton, JAC, and JMC. Meanwhile, in recognizing the fast-growing Transport Network Vehicle industry, this year's show will likewise exhibit vehicles that can be used for either personal or TNV purposes. These include the latest models from brands such as Volkswagen, Ssangyong, and Toyota.
ADVERTISEMENT - CONTINUE READING BELOW ↓
Motorbikes display
At this year's CAS, motorcycle enthusiasts won't be left out with this year's Motor Bikes display. Apart from a considerable display of the latest motorcycle and motorbike models. Show attendees are also encouraged to visit the Motor bikes display area for exclusive promos and live demonstrations.
Auto car parts and accessories
Apart from vehicle displays, CAS 2018 will also be exhibiting a comprehensive range of auto parts and accessories. A one-stop shop for those who are looking to find specific car accessories, visitors can take advantage of discounted car accessories such as the Dynastics dashcam from BG1 Marketing, Remora GPS tracker from American Technologies, Air refresher and Brilliant Solutions Paint from Meguiar's Cebu, tires and mag wheels from Luxuriant Philmarketing Inc., tint and windows from K&N Airfilter/Solargard, and automotive service equipment lubricants from F&E Enterprises Inc.
Mountain Wing
Adding another impressive component to this year's CAS is the Mountain Wing exhibit. To be located at the ground floor of SM Seaside, the exhibit will feature different types of custom cars that have been selected by the organizer for its impressive design and correspondence to the CAS 2018 theme of "Work and Play".
ADVERTISEMENT - CONTINUE READING BELOW ↓
The 11th Cebu Auto Show will run until September 16, from 10:00am to 8:00pm at the SM Seaside Sky Hall. Admission is free and open to all. For more information, follow Cebu Auto Show on Facebook and @cebuautoshow on Instagram.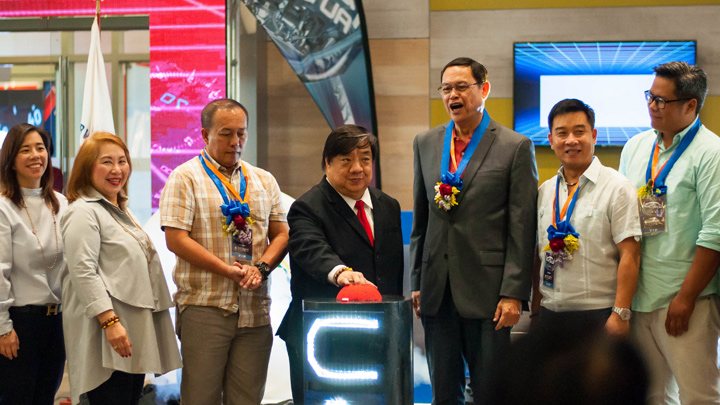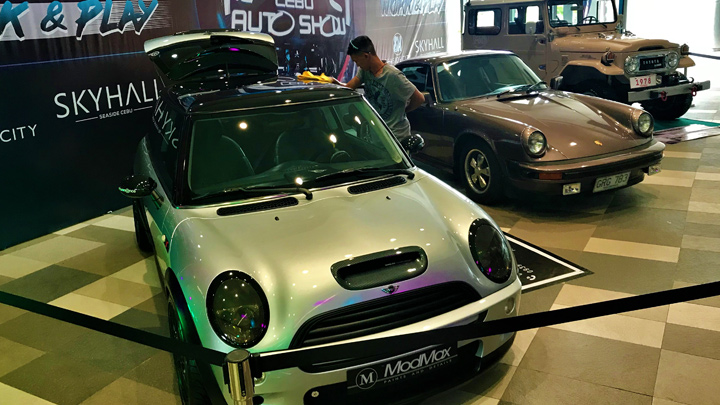 ADVERTISEMENT - CONTINUE READING BELOW ↓