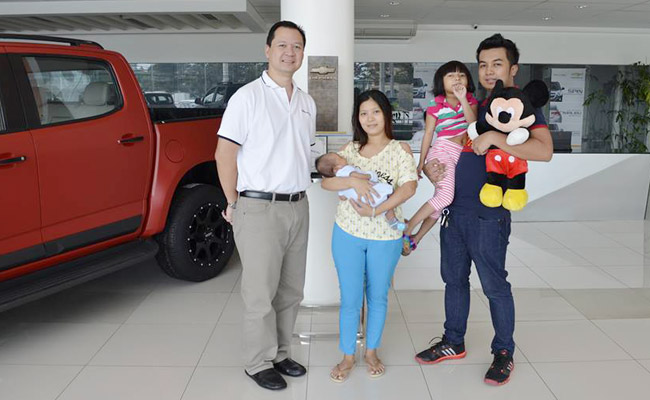 This one is a valuable lesson in customer care that all car companies in the Philippines can learn from.
You see, we get a lot of complaints from car owners who are disappointed either with the quality of their vehicle or with the level of after-sales service they get from their car dealer. A few of these complaints get posted on our Facebook page. Now, the reactions from various carmakers vary from proactive to downright negative, depending largely on the kind of executives that lead said companies. A few take it the wrong way and even get mad at us for posting the grievance, regardless of how legitimate the complaint is. And then, of course, there are those who welcome these things and even collaborate with us in solving the problem. Ford Philippines comes to mind, for instance.
But this story is something else, because it isn't even about a customer complaint that a car company needed to address. On December 12, we posted a photo sent to us by a reader named Jeffrey Lopez Perez. It showed the railing of the driver's seat of his Chevrolet Trailblazer. According to him, his daughter suffered a cut in her head after getting outbalanced at the back of the SUV and hitting her head against the railing. The photo sender wasn't complaining, especially since he was aware that it was also his fault for failing to ensure that his daughter was properly buckled up before they hit the road. He was merely sharing the incident so that other parents might learn from it.
Continue reading below ↓
Recommended Videos
The post, in other words, wasn't another complaint from a dissatisfied customer. But then Chevrolet Philippines felt it had to do something about it.
Perez sent us another message, this time informing us that Chevrolet Philippines had reached out to him after seeing the post on our Facebook page. Here's his story in full (in italics):
Dear Top Gear, first I want to thank you for posting my story on your Facebook page. My intention really was to help increase safety awareness. Also, I would like to inform you that the regional distributors operation manager of General Motors in the Philippines, Dante Reyes, contacted me and said that they had read your post regarding my story, and that they were alarmed upon learning that the unit was a Chevrolet Trailblazer.
They got in touch with me through Facebook and asked for my mobile number. Then Mr. Reyes called me right away. Their first concern was my daughter. They asked how she was doing. You could feel their genuine concern over the phone. Mr. Reyes even joked about some of the criticisms posted on your page. He said he wanted to meet me.
It was Saturday when Mr. Reyes contacted me, and we met the next day at Chevrolet Commonwealth since our place is just five minutes away from it. He was actually suggesting that they go directly to my house.
Mr. Reyes was very nice to us. In fact, he even gave my daughter Kylie a Mickey Mouse stuffed toy. He was very glad to see that my daughter was fine after the incident. After around 30 minutes of chitchat, he then asked if he could see my vehicle personally. So we went outside and he checked on the unit.
I'm just amazed with the fact that Sir Dante really went out of his way to see me personally. He is very down-to-earth and very kind. He told me that the moment he saw the post on your page, he immediately sent an e-mail to GM Thailand.
Bottom line: He commited that they will provide plastic molding for the driver-seat railing for free, and will have it delivered to Chevrolet Commonwealth for reinstallation.
That's all. I asked for his permission if I could tell you guys. My faith in the car industry has been restored. It's good to know that there are high-ranking industry officials lurking on social media to find out about issues affecting their customers.
All's well that ends well, as they say. We hope all industry bosses can be like this when coming across a customer-related post on our Facebook page. It enhances the ownership experience in ways no extravagant marketing campaigns can accomplish. Kudos to Chevrolet Philippines and to Dante Reyes (whom we haven't really met, by the way).
Photos from Jeffrey Lopez Perez