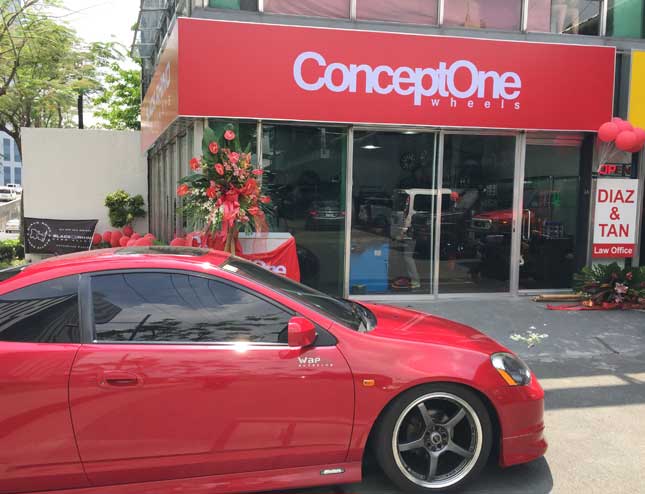 Those active in the automotive aftermarket scene are quite familiar with the popular Concept One brand of alloy wheels. The company that distributes these wheels is the same one that sells such brands as Saffiro, Black Rhino and BBS, among others.
If you want your stock-looking car to appear immediately different straight out of the showroom, this is the shop to bring it to. Changing a vehicle's rims is the simplest, most affordable way to alter your ride's exterior such that it no longer blends with countless other units of the same make and model.
But as much as Concept One and its affiliate brands appeal to car owners, the previously solitary store--the one located at 318 Santolan Road in Greenhills, San Juan--is simply out of the way for many of them. Truth be told, it is kind of difficult to find if you're not familiar with the area.
This little inconvenience has just been addressed. Concept One Wheels now has a new outlet inside the Karport Plaza compound in Bonifacio Global City (almost across the Shell station). Yes, you may now drive your brand-new sedan, hatchback or SUV to BGC and give it new kicks. No more need to decipher Waze directions going to some obscure address that's the bane of directionally challenged people like you.
The store has a compact floor area, but is big enough to display a good number of wheels and even tire products. In one corner sits wheel-and-tire equipment to ensure the best fit for your prized possession.
Our suggestion if you're getting a new set of alloys or tires? Just bring your car here, have lunch or coffee, and then return to fetch your more attractive automobile. Car modification doesn't get any easier and more convenient than this.
Photos by Vernon B. Sarne