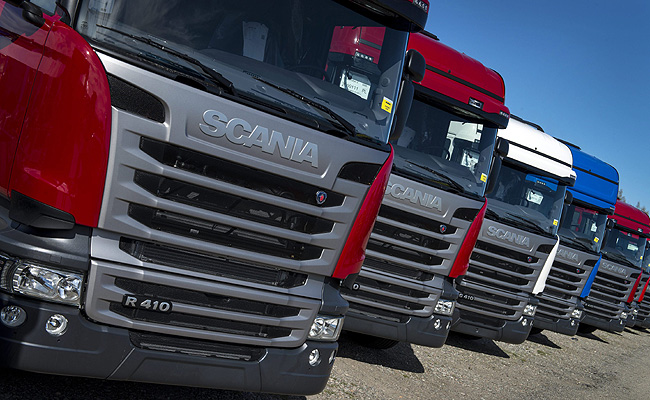 BJ Mercantile, the official distributor and service partner of the Scania brand of trucks in the Philippines, has laid out its plans for the local market in the coming years.
While the opening of the first Scania showroom, located on EDSA in Balintawak, Quezon City, is scheduled for February 2015, sales of the brand's complete lineup of trucks have already begun. For 2015, BJ Mercantile has set a target of 70 units.
Since Scania puts a premium on vehicle safety and after-sales service, BJ Mercantile is set to fly its mechanics to Malaysia to undergo training at the truckmaker's ASEAN regional office. Also, while the Philippine-market Scania trucks will be manufactured in France, the units are well suited for the local market, with Scania trucks and buses reportedly plying the roads of Thailand, Malaysia and Myanmar.
As for the quality of local diesel fuel, it won't be a problem for Scania units since the engines are rated for Euro III specification, with the truckmaker following the country's transition to Euro IV fuels in 2016.
Scania is also eyeing the local bus market, but unlike other European trucks that partnered with local body manufacturers, the Swedish truck brand has joined forces with a Brazilian body manufacturer that has a plant in China.
Continue reading below ↓
Recommended Videos
"We're also eyeing the bus business because it's very dynamic," said BJ Mercantile vice president Leilani Lim Tan. "You've got commuter buses, long-distance passenger buses, and even luxury buses. We've looked at local body builders, but Scania will only work with those it has approved so as not to sacrifice quality."
While Lim Tan admitted that Scania's trucks are more expensive than similar offerings from Chinese truck brands, its units are more durable and cost less in the long run.
"Chinese trucks are cheap because they last only three years," Lim Tan added. "After that, they're just disposed of as junk. Scania trucks, on the other hand, are designed to last for a long time, and you can still sell those trucks years later. You'll save initially with China trucks but if you keep replacing them every three years, the total amount you will have put in them would be a lot more than if you had just bought a Scania truck and used it for the same period."
Lim Tan shared that Scania is also looking to supply the units needed for the planned bus rapid transit systems in Cebu and Metro Manila. It has warned the government agencies involved that the system won't be successful if it chooses to use China-made vehicles.
"You have to get it right the first time," Lim Tan said. "You'll use China-made buses to lower the project cost, but once they break down, it will affect the service. You have to use European-made units like Scania if you want the system to succeed for the long term."
Asked what Scania's advantage is over other truck brands from Europe, Lim Tan stressed that the Swedish trucks are among the most fuel-efficient in the market today.
"We'll also be concentrating on after-sales and customer service because these are the key to building long-term relationships with our clients," shared Lim Tan.