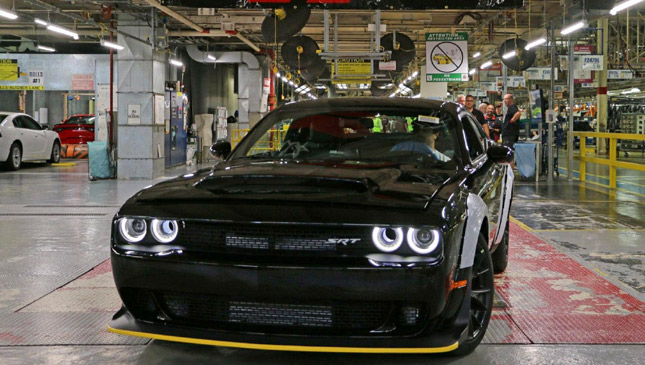 Despite the auto industry's move to greener vehicles, Dodge came up with a car more outrageous than the gas-guzzling 707hp Hellcat muscle car. It was dubbed the Challenger SRT Demon, a street-legal drag car.
While the Demon's impressive figures make it special, its one-year limited production run will surely make it a desirable future collectible–that's if gasoline will still be a thing decades from now. Only 3,300 Demons were built, and the very last unit just recently rolled off FCA's Canadian Brampton assembly plant.
The final Dodge Challenger SRT Demon and the final production Dodge Viper will be auctioned off as a pair for charity at the Barrett-Jackson Northeast Auction, which will be held on June 20-23. Proceeds will go to The United Way.
Continue reading below ↓
Recommended Videos
Let's take another look at some of the things that set the Demon apart from its siblings. For starters, it packs a powerful 6.2-liter Supercharged Hemi SRT Demon V8, which produces up to 840hp. According to Dodge, this is the most powerful production car engine. It's equipped with a large 2.7-liter supercharger, which produces 14.5 psi boost pressure.
The Demon's 0 to 60mph (97kph) acceleration time of 2.3 seconds is also the quickest for a production car. To put this into perspective, a Porsche 911 GT2 RS needs 2.7 seconds to accomplish the same deed.
Other production car records? The fastest quarter mile certified by NHRA at 9.65 seconds and the highest G-force at 1.8G. And of course, it can do wheelies, something other showroom stock vehicles don't normally do.
To go faster, you don't just add more power. You also take off unnecessary weight, and the Demon jettisons some items to save over 90kg. This includes every seat except the driver's seat. You can add the other seats back for a dollar (about P52.00) each if you want to take passengers along with you. It has extended fender flares to hide its wide set of 315/40R18 Nitto NT05R drag tires. Compared to the Hellcat, it gets its own suspension calibrations.
For those lucky enough to have purchased one of these monsters, they can avail of the Demon Crate, which is just worth a dollar. It contains what is needed to turn this muscle car into a drag strip star. This package includes a pair of lighter skinny front runner drag tires, torque wrench with extension and socket, a cordless impact wrench with charger, a hydraulic floor jack, high-octane engine calibration, and a performance air filter to name a few. Details like this just remind us how special this car is.