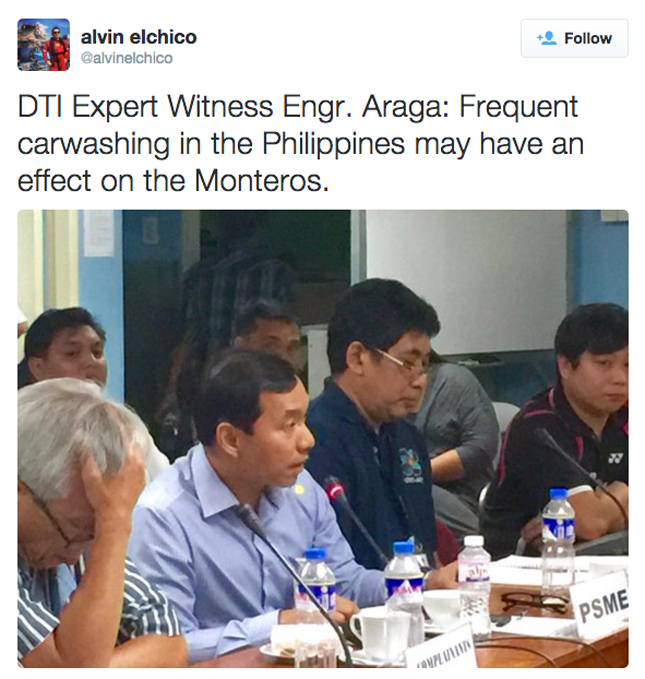 Yesterday, the Department of Trade and Industry conducted a hearing commencing its investigation of the complaints filed against the Mitsubishi Montero Sport, which is being accused of having a tendency to exhibit "sudden unintended acceleration."
An "expert witness" of the DTI--one Engineer Araga--has since gone viral on social media after saying that frequent car-washing could have ill effects on the Montero Sport. His statement was tweeted by ABS-CBN and DZMM reporter Alvin Elchico, and screenshots of said tweet have been passed around by netizens.
On our own post on our Facebook page, Danny Araga wrote the following comment (in italics and unedited) to explain his statement:
To all bashers, Mitsubishi Philippines presented that most SUA incident only happened here in our country. No other country except Russia had a single incident. What I was referring to was probably our "culture" how we take care our cars. Actually, I gave carwashing as a cause "probably" because no other country that were presented and I have also once visited are more attached to their cars and the number of carwash stations around compared to others. Note that I have also referred to flooding incident that have occurred in the past. As an engineer there were no part in the presentation of MMPC that looked on external factors that might caused this SUA incident. The discussion circled on the ECU problem which they said have not indicated any fault, all 97 units. Thinking out of the box, water can cause corrossion and electronic fault. I even pointed that MMPC can also looked on the materials used. Note that one car company admitted that the installed accelerator pedal mechanism caused the SUA due to their poor material selection. I hope everybody would also consider that the car might also have weather proofing issues that was not at all considered, car wash methodology using pressure washers can cause this SUA incident.
Okay. We hope you're less confused now.
Twitter screenshot from Alvin Elchico