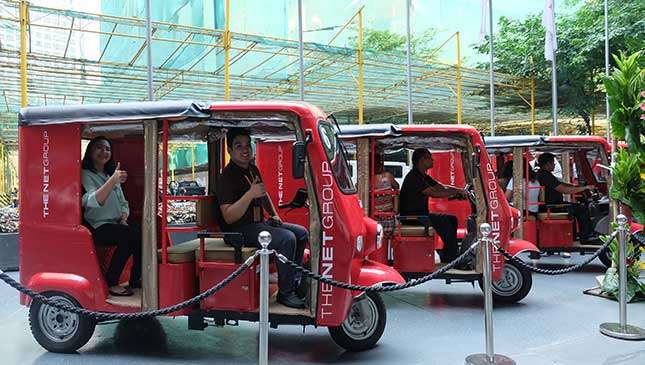 Bonifacio Global City residents and tenants can finally get rid of their phobia of the word 'surge.' They'll be able to sleep more soundly since they will have less worries about the monstrous traffic and exorbitant parking fees just to move around the area. Moreover, they need not panic if they find out they don't have enough cash to commute.
All of these will be made possible after EMotors, Inc. (EMI) forged a partnership with GCash of Globe Telecom, MYNT, and the W Group for cashless payment of select groups within BGC.
"The partnership serves as a great opportunity to showcase a benchmark where visionary leaders and the companies they lead play a key role in solving problems in an innovative and sustainable way," says Elizabeth H. Lee, EMotors chief executive officer.
Continue reading below ↓
Recommended Videos
"Together, we co-create a better future that puts importance on technological innovation and sustainable transport that makes for a better work/life for employees," Lee added.
EMotors will be deploying environment-friendly Züm e-trikes in BGC to service occupants of six buildings of the W Group, one of the biggest property developers in this booming district of Taguig City.
With only a handful of passenger buses plying the route, employees and tenants are often left at the mercy of app-based taxi services that are known to charge exorbitant fees during rush hour. Adding salt to injury is the banning of habal-habal or motorcycle-for-hire within the same area.
According to Beth Lee, the e-trike shuttles are exclusive only for employees and tenants of W Group buildings. This is to lessen their daily cost of transportation and to allow them to move around the area in a more convenient way.
Partner MYNT, on the other hand, operates GCash which is pursuing a cashless society. Globe, MYNT, and the W Group now add to the growing list of sustainability-conscious companies that have partnered with EMotors.
EMotors is the country's first and only 100% Filipino-owned manufacturer and assembler of three-wheeled zero-emission electric vehicles registered with the Department of Trade and Industry and Board of Investment's Motor Vehicle Development Program under Executive Order 156.
W Group executives are hopeful that by minimizing their employees' commuting problems, they will be able meet their company's objective of sustaining the high retention rate of their tenants, and at the same time boosting the morale and productivity of their workforce.
Together, the companies provide access to an innovative, seamless, cashless, convenient and sustainable ecosystem where employees of the partner companies can ride on clean, green Züm e-mobility shuttles, all using the convenience of GCash to suit their needs.
The launch event was also attended by W Group chief executive officer Francis Wee, EMotors treasurer Peter Yap, MYNT president and CEO Anthony Thomas, Globe president and CEO Ernest Cu, W Group founder Wee Lee Hiong, EMotors chairman Helen Lee, and EMotors director Lucio Ong.
Have you tried out this eco-friendly shuttle?