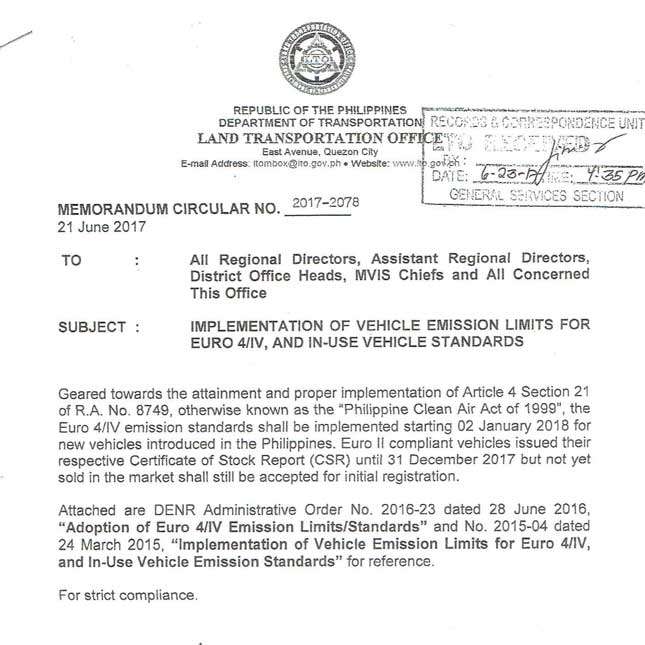 As it turns out, the shelf life of Euro 2-compliant vehicles has been extended by a little bit thanks in part to this development. This is a follow up to the our recent Euro 4 story.
According to the memorandum circular issued by the LTO to all regional directors and district office heads, vehicles that have already been issued a Certificate of Stock Report (CSR) before December 31, 2017 can still be registered in 2018. The memorandum circular states:
"The Euro 4 emission standards shall be implemented starting 2 January, 2018 for new vehicles introduced in the Philippines. Euro 2-compliant vehicles issued their respective Certificate of Stock Report (CSR) until 31 December 2017 but not yet sold in the market, shall still be accepted for initial registration."
For those who aren't familiar with these terms, the LTO website says that a CSR, "certifies that a motor vehicle or its component has already been reported by its manufacturer, assembler, or importer to the Manufacturers, Assemblers, Importers, and Dealers Reporting System (MAIDRS)." This is a document to be presented to the PNP-HPG for clearance.
The documentary requirements needed for a CSR are:
*Stock Report (in hard and soft copies)
*stencils of engine and/or chassis number
Continue reading below ↓
Recommended Videos
*Certificate of Conformity (DENR)
*Import Entry & Internal Revenue Declaration
*Bill of Lading
*Packing List
*Certificate of Payment
By the way, once recognized by the MAIDRS, this is the equivalent of a vehicles' 'birth certificate.' This makes it easier for owners to register their cars in any LTO branch nationwide.
If you are in the market for an Isuzu Crosswind or Mitsubishi Adventure and are browsing around, make sure it has a CSR. So for those looking to buy these workhorses, you may still have some leeway at the end of this year.