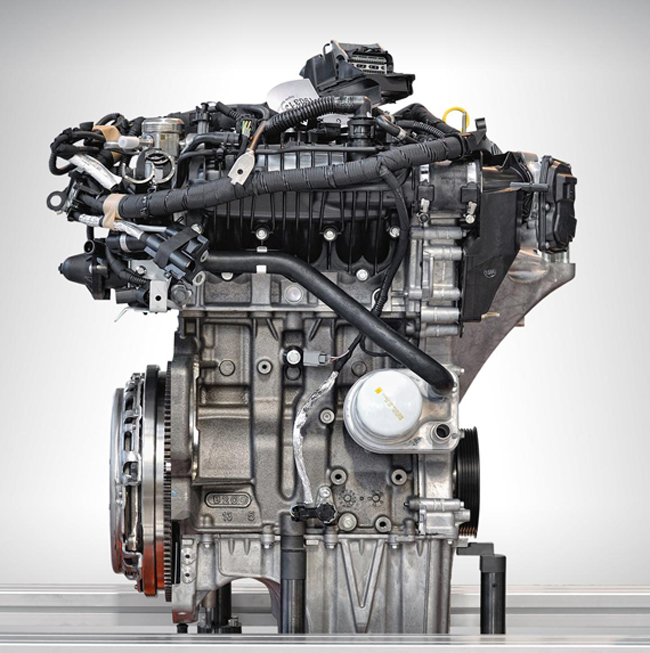 She may not know it yet, but one of our writers is driving around in a Ford Fiesta powered by a three-time recipient of the International Engine of the Year Award. (Sharleen Banzon has the car now as we write this.) The 1.0-liter three-cylinder turbocharged Ford EcoBoost engine wins again for 2014 because of its smooth power delivery and notable fuel economy.
Still, winning wasn't easy for the tiny Ford mill as it faced its stiffest competition since it first won in 2012. The superb Ferrari V8 that powers the 458 supercar lost by a mere 70 points. In other markets, the 1.0-liter EcoBoost can also be found under the hoods of the B-Max, the EcoSport, the Focus, the C-Max, the Grand C-Max and the Tourneo Connect.
According to Dean Slavnich, co-chairman of the International Engine of the Year Awards and editor of Engine Technology International, "no other engine has won the overall International Engine of the Year Award for three successive years, so this achievement not only cements the 1.0-liter EcoBoost's place in the history books, but is also proof that this is one of the finest examples of powertrain engineering. This truly remarkable engine is the benchmark when it comes to downsizing and three-cylinder development."
Below are the rest of the results, including the category winners.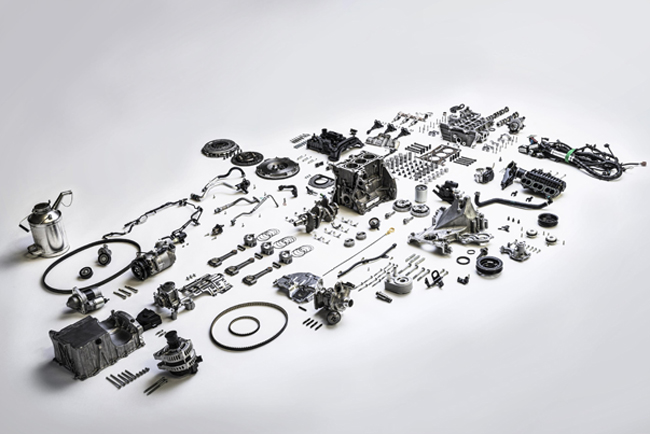 2014 INTERNATIONAL ENGINE OF THE YEAR
Winner - Ford 999cc three-cylinder turbo (Ford Fiesta, B-Max, Focus, C-Max, Grand C-Max, EcoSport, Tourneo Connect), 351 points
Runners-up - Ferrari 4.5-liter V8 (458 Italia, Spider and Speciale), 281 points; Volkswagen 1.4-liter TSI Twincharger (Polo, Beetle, Eos, Jetta, Passat, CC, Tiguan, Touran,/Cross Touran), 254 points; Mercedes-Benz AMG 2.0-liter turbo (A45 AMG, CLA45 AMG, GLA45 AMG), 252 points; Tesla full-electric powertrain (Model S), 225 points; BMW 3.0-liter twin-power turbo six-cylinder (135i, 640i, 740i, 235i, 335i, 435i, Z4 35i, 535i, X3 35i, X5 35i, X6 35i, Z4 35is), 223 points; BMW/PSA Peugeot Citroen 1.6-liter turbo gasoline (Mini Clubman Cooper S, Countryman Cooper S, Coupe/Roadster Cooper S, Paceman Cooper S, Clubman Cooper JCW, Coupe/Roadster Cooper JCW, Countryman Cooper JCW, Paceman Cooper JCW; Peugeot 208, 308, 508, 3008, 5008, 208 GTI, RCZ, RCZ R; Citroen DS3, DS3 Racing, C4, DS4 Racing, C4 Picasso/Grand Picasso, C5, DS5), 181 points; McLaren 3.8-liter V8 (650S, 12C), 154 points; Audi 2.5-liter five-cylinder turbo (RS Q3), 79 points
BEST NEW ENGINE
Winner - Mercedes-Benz AMG 2.0-liter turbo (A45 AMG, CLA45 AMG, GLA45 AMG), 225 points
Runners-up - BMW 1.5-liter three-cylinder turbo (218i), 154 points; BMW full-electric powertrain (i3), 138 points; BMW M 3.0-liter turbo (M4, M3), 134 points; PSA Peugeot Citroen 1.2-liter three-cylinder turbo (Peugeot 308; Citroen C4 Cactus), 130 points; Porsche 3.8-liter boxer turbo (911 Turbo, 911 Turbo S), 124 points
BEST GREEN ENGINE

Winner - Tesla full-electric powertrain (Model S), 248 points
Runners-up - BMW 647cc two-cylinder electric-gasoline range extender (i3), 189 points; BMW full-electric powertrain (i3), 145 points; Ford 999cc three-cylinder turbo (Fiesta, B-Max, Focus, C-Max, Grand C-Max, EcoSport, Tourneo Connect), 85 points; Fiat 875cc two-cylinder turbo CNG (Panda 500L), 84 points; GM 1.4-liter electric-gasoline range extender (Chevrolet Volt; Opel Ampera; Cadillac ELR), 70 points
BEST PERFORMANCE ENGINE

Winner - Ferrari 4.5-liter V8 (458 Italia, Spider and Speciale), 289 points
Runners-up - Ferrari 6.3-liter V12 (F12 Berlinetta), 220 points; McLaren 3.8-liter V8 (650S, 12C), 136 points; Porsche 3.8-liter boxer turbo (911 Turbo, 911 Turbo S), 107 points; Porsche 3.8-liter boxer direct injection (911 Carrera, 911 GT3), 95 points; BMW M 3.0-liter turbo (M4, M3), 83 points
BEST SUB 1.0-LITER ENGINE

Winner - Ford 999cc three-cylinder turbo (Fiesta, B-Max, Focus, C-Max, Grand C-Max, EcoSport, Tourneo Connect), 505 points
Runners-up - BMW 647cc two-cylinder electric-gasoline range extender (i3), 261 points; Volkswagen 999cc three-cylinder (Polo, Up), 239 points: Fiat 875cc two-cylinder turbo (500, Panda, 500L, Punto), 212 points; Renault/Nissan 898cc three-cylinder turbo (Renault Clio, Captur; Dacia Sandero, Logan MCV), 105 points; Fiat 875cc two-cylinder turbo CNG (Panda 500L), 81 points
BEST 1.0-LITER TO 1.4-LITER ENGINE

Winner - Volkswagen 1.4-liter TSI Twincharger (Polo, Beetle, Eos, Jetta, Passat, CC, Tiguan, Touran/Cross Touran), 360 points
Runners-up - Fiat 1.4-liter MultiAir turbo (Abarth Punto, 500L, Punto, Bravo), 202 points; Volkswagen 1.4-liter TSI (Polo, Golf, Golf Sportsvan, Scirocco, Eos, Jetta, Tiguan, Passat), 170 points; PSA Peugeot Citroen 1.2-liter three-cylinder turbo (Peugeot 308; Citroen C4 Cactus), 152 points; Volkswagen 1.4-liter TSI ACT (Golf), 147 points; Volkswagen 1.2-liter TSI (Polo, Beetle, Golf, Jetta, Touran/Cross Touran, Golf Sportsvan), 133 points
BEST 1.4-LITER TO 1.8-LITER ENGINE

Winner - BMW/PSA Peugeot Citroen 1.6-liter turbo petrol (Mini Clubman Cooper S, Countryman Cooper S, Coupe/Roadster Cooper S, Paceman Cooper S, Clubman Cooper JCW, Coupe/Roadster Cooper JCW, Countryman Cooper JCW, Paceman Cooper JCW; Peugeot 208, 3008, 508, 308, 5008, 208 GTI, RCZ, RCZ R; Citroen DS3, DS3 Racing, C4, DS4 Racing, C4 Picasso/Grand Picasso, C5, DS5), 267 points
Runners-up - BMW 1.5-liter three-cylinder turbo (218i), 256 points; Audi 1.8-liter TFSI (A3, A4, A5), 196 points; Fiat 1.75-liter turbo (Alfa Romeo 4C), 106 points; Mazda 1.5-liter Skyactiv four-cylinder (3), 101 points; Ford/Volvo/Mazda 1.6-liter turbo (Ford Fiesta ST, Focus, C-Max/Grand C-Max, S-Max, Galaxy, Kuga/Escape, Tourneo Connect, Fusion; Volvo V40, S60, V60, V70, XC70, S90), 81 points
BEST 1.8-LITER TO 2.0-LITER ENGINE

Winner - Mercedes-Benz AMG 2.0-liter turbo (A45 AMG, CLA45 AMG, GLA45 AMG), 271 points
Runners-up - Audi 2.0-liter TFSI four-cylinder (A1, S1, S3, A4, A5, A6, Q3, Q5), 235 points; BMW 2.0-liter twin-turbo four-cylinder diesel (116d, X1 16d, 118d, 218d, 318d, 418d, 518d, X1 18d, 120d, 220d, 420d, 520d, X1 20d, 125d, 225d, 425d, 525d, X1 25d, 316d, 320d, 218d, X1 20d Efficient Dynamics, X3 18d, X3 20d, X5 25d), 211 points; BMW 2.0-liter twin-turbo four-cylinder gasoline (125i, 220i, 320i, 420i, 520i, Z4 20i, X1 20i, X3 20i, 328i, 428i, 528i, Z4 28i, X1 28i, X3 28i, Z4 18i, X1 18i), 184 points; Mazda 2.0-liter direct-injection Skyactiv (3, CX-5, 6), 172 points; Volkswagen 2.0-liter TDI (Beetle, Eos, Jetta, Golf, Golf GTD, Golf Sportsvan, Scirocco, Passat, Touran/Cross Touran, Tiguan, CC), 106 points
BEST 2.0-LITER TO 2.5-LITER ENGINE

Winner - Audi 2.5-liter five-cylinder turbo (RS Q3), 357 points
Runners-up - Mazda 2.2-liter Skyactiv diesel (3, 6, CX-5), 340 points; Mercedes-Benz 2.1-liter CDI (A200, E200, GLA200, GLK200, A220, CLA220, B220, C220, E220, GLA220, GLK220, C250, E250, CLS250, SLK250, GLK250, ML250), 221 points; Mazda 2.5-liter Skyactiv gasoline (6, CX-5), 178 points; Ford/PSA Peugeot Citroen/Jaguar Land Rover 2.2-liter diesel (Jaguar XF; Land Rover Freelander 2, Range Rover Evoque; Peugeot 508; Ford S-Max; Citroen C5), 136 points; Mercedes-Benz 2.1-liter electric-diesel hybrid (E300 Hybrid, S300 Hybrid), 133 points
BEST 2.5-LITER TO 3.0-LITER ENGINE

Winner - BMW 3.0-liter twin-power turbo six-cylinder (135i, 640i, 740i, 235i, 335i, 435i, Z4 35i, 535i, X3 35i, X5 35i, X6 35i, Z4 35is), 254 points
Runners-up - Porsche 2.7-liter direct-injection (Boxster, Cayman), 228 points; BMW M 3.0-liter turbo (M3, M4), 174 points; Jaguar Land Rover 3.0-liter V6 supercharged (Jaguar F-Type, XF, XJ; Land Rover Discovery 4, Range Rover, Range Rover Sport), 161 points; BMW 3.0-liter twin-power turbodiesel six-cylinder (330d, 430d, 530d, 730d, X3 30d, X5 30d, 335d, 435d, 535d, 640d, 740d, X3 35d, X5 40d, X6 30d, X6 40d), 160 points; BMW 3.0-liter twin-power turbodiesel six-cylinder (M550d, M750d, X5 M50d, X6 M50d), 152 points
BEST 3.0-LITER TO 4.0-LITER ENGINE

Winner - McLaren 3.8-liter V8 (650S, 12C), 351 points
Runners-up - Audi/Bentley 4.0-liter TFSI (Audi S6, S7, RS6, RS7, A8, S8; Bentley Continental GT, Flying Spur, GTS), 245 points; Porsche 3.8-liter boxer direct-injection (911 Carrera, 911 GT3), 231 points; Porsche 3.8-liter boxer turbo (911 Turbo, 911 Turbo S), 212 points; Maserati 3.8-liter V8 turbo (Quattroporte), 173 points; Porsche 3.4-liter direct-injection (Boxster S, Cayman S, 911 Carrera), 173 points
BEST ABOVE 4.0-LITER ENGINE

Winner - Ferrari 4.5-liter V8 (458 Italia, Spider and Speciale), 380 points
Runners-up - Ferrari 6.3-liter V12 (F12 Berlinetta), 271 points; Mercedes-Benz AMG 5.5-liter V8 turbo (E63 AMG, CLS63 AMG, ML63 AMG, E63 AMG S, CLS65 AMG, S63 AMG, SL63 AMG, G63 AMG, GL63 AMG), 148 points; BMW M 4.4-liter twin-turbo V8 (M5, M6), 123 points; Jaguar Land Rover 5.0-liter V8 supercharged (Jaguar F-Type, F-Type R, XFRS, XJR, XKRS, XF, XK, XJ; Land Rover Range Rover, Range Rover Sport), 120 points; Lamborghini 6.5-liter V12 (Aventador), 102 points