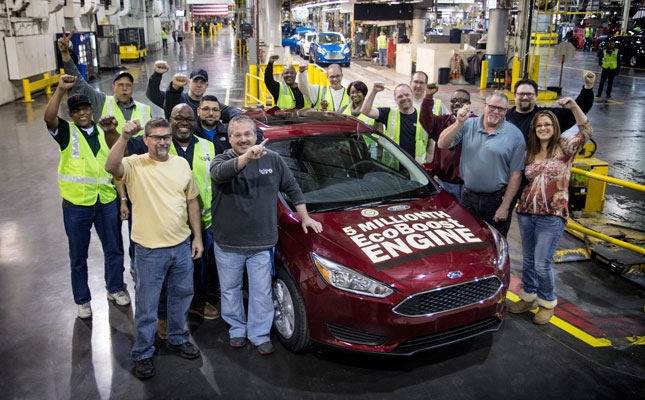 Ford used to have a reputation for making cars with huge, gas-guzzling engines. The Mustang, the Expedition and the F-150 are the culprits models most associated with wasteful consumption of our planet's precious fossil fuels. Yet oil crises in recent decades have caused the Blue Oval to make a complete turnaround for the better. It has mended its ways and has now come up with more fuel-efficient cars that are attuned to the times.
To make its offerings more fuel-efficient, Ford fielded a new family of engines known as EcoBoost. For those who aren't familiar with this line of motors, the EcoBoost engine is essentially a small-displacement engine that packs horsepower and torque similar to bigger-displacement, naturally aspirated engines. The trick is turbocharging and direct-injection technology. Moreover, these engines have been known to consume around 20% less fuel and emit 15% less greenhouse gases. The 1.0-liter three-cylinder EcoBoost engine of the Fiesta, for instance, puts out 125hp--rivaling that of a 1.6-liter four-cylinder mill, all the while consuming an average of 12.6km/L.
If you think that this is just some fad to save the planet, you'll be pleasantly surprised that Ford has just produced its five millionth EcoBoost engine. The vehicle, a Focus with a 1.0-liter EcoBoost engine, rolled off the Wayne, Michigan, assembly plant last week. This comes after only six years since Ford introduced this engine line.
Back in 2009, Ford came out with its very first EcoBoost-equipped vehicle, a Taurus SHO equipped with a 3.5-liter V6 engine. A year later, 62,704 vehicles with EcoBoost engines under their hood rolled off Ford plants. And in 2013, the two-millionth vehicle with this tech wonder hit the roads of America as it came out of the Louisville plant.
ADVERTISEMENT - CONTINUE READING BELOW ↓
In the Philippines, Ford first came out with the EcoBoost technology in the current-generation Explorer when it was launched in 2012. The 2.0-liter GTDi motor produced 240hp and 366Nm--figures that are close to a V6 motor's. What's more, fuel economy is rated at an average of 8-12 km/L, just like a four-cylinder engine's. Since then, Ford Philippines has equipped the Fiesta and the all-new Escape with EcoBoost powerplants.
The little 1.0-liter, three-cylinder EcoBoost motor, in particular, has been the recipient of the International Engine of the Year award for three straight years. This little engine has the distinction of being the only motor to win the award three times in a row. Oh, and did we mention that it was also included in Ward's 10 Best Engines for two straight years?
With Ford sales growing in the Philippines and around the world--along with the new-generation Mustang packing a powerful yet efficient 2.3-liter four-cylinder EcoBoost engine--we're pretty sure we'll be seeing more of these motors in more cars soon.
ADVERTISEMENT - CONTINUE READING BELOW ↓
Recommended Videos