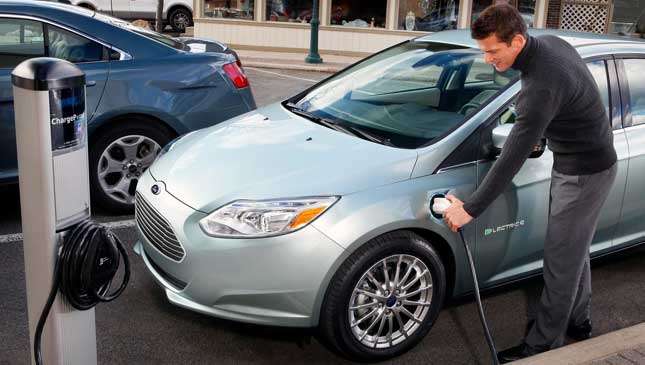 Over the past decades, electric vehicles or EVs have made their transition from fiction to reality. The growing air pollution problem has also made these green vehicles even more relevant. Some cities in Europe and North America are even considering banning sales of internal combustion engine-powered vehicles in the coming decades. Carmakers are now scrambling to step up their EV game.

When it comes to EVs, Tesla is the brand that comes to mind. The company, though young, is ahead of the game when it comes to bringing its high-tech automobiles from the drawing board—or computer—to the customers.
Like most carmakers, Ford is actively refocusing on the EV segment. It already builds an electric version of its Focus hatchback and sells it in select markets. But despite its relatively low price, at least by EV standards, it isn't exactly flying off the showroom floors. While the current Focus EV might seem like a rushed project being a converted conventional car, the blue oval is now getting serious about electrification.

Automotive News has recently reported that Ford will form an internal group dedicated to electric vehicles named "Team Edison." Interesting choice for a team name: American inventor Thomas Edison was not only Henry Ford's boyhood hero and friend, he also happened to be Nikola Tesla's rival and former boss. Edison vs. Tesla—coincidence?

Team Edison will only focus on EV car models. It's separate from the Dearborn-based carmaker's other electrified products which include hybrid and plug-in hybrid models. Sherif Marakby, VP of autonomous vehicles and electrification, feels that a cross-functional team that will handle strategy plans all the way to advanced marketing is vital.
ADVERTISEMENT - CONTINUE READING BELOW ↓
Marakby also added that over the next five years Ford plans to introduce 13 electrified vehicles, seven of which were announced earlier this year. This of course includes the yet unnamed crossover EV which will have a 483km range. This electric CUV is expected to arrive in 2020 and will be marketed in North America, Europe, and Asia.

The newly formed team is also exploring potential partnerships with other manufacturers. Recently Ford signed a memorandum of inderstanding with Chinese zero-emissions carmaker Anhui Zotye Automobile. The planned 50:50 joint venture will consist of all-electric vehicles to be sold under a new local brand. This should help Ford get into China's growing EV market.

This looks like the beginning of a new electrified future for Ford.
ADVERTISEMENT - CONTINUE READING BELOW ↓
Recommended Videos