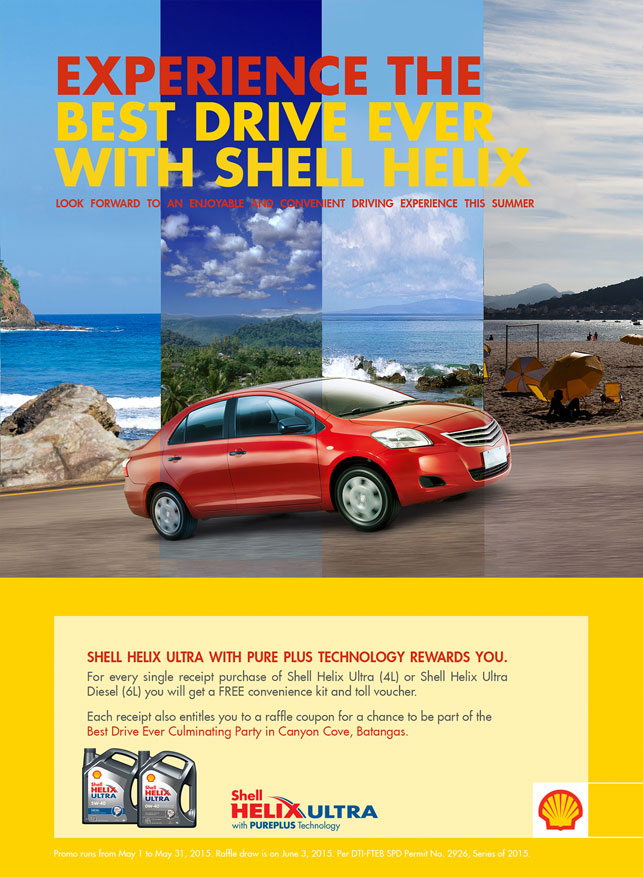 Here's a free car maintenance tip: Never scrimp on motor oil. Lubricants quite literally are the lifeblood of your vehicle, and neglecting to change them can lead to catastrophic results.
As both an incentive and reward to those who need to change oil during the summer road-trip season, Shell is holding a promo for those who will buy its oil products. For every purchase of Shell Helix Ultra (4L) and Shell Helix Ultra Diesel (6L) at participating Shell stations in Metro Manila, customers will get:
1. A convenience travel kit;
2. A toll fee voucher worth P200, redeemable at Easy Pass or E-tag outlets.
3. A raffle coupon that will give the buyer an opportunity to win an invite to the "Best Drive Ever Culminating Party" in Canyon Cove, Batangas. This event will happen on June 12. Customers just need to fill out a raffle coupon and slip it in drop boxes at Shell stations.
Twenty entries will be drawn, and each winning entry is good for four (4) people who can stay overnight at the resort (quadruple sharing). Also included are full-board meals (lunch/dinner/breakfast) during the group's stay in Canyon Cove, and drinks and bar chow during the party.
Winners will also be given a Best Drive Ever Itinerary, where they can discover the best pit stops and assembly points along the way. To make the drive more fun, Shell will even give them a P500 Select convenience store voucher and a gas card worth P1,000.
This promo runs from May 1 to 31, 2015, and the raffle draw will be on June 3, 2015. Lucky winners will be notified via calls and SMS from June 4 to 10, 2015.
ADVERTISEMENT - CONTINUE READING BELOW ↓
We believe everyone should have at least one awesome road trip every summer. This could be yours.
ADVERTISEMENT - CONTINUE READING BELOW ↓
Recommended Videos