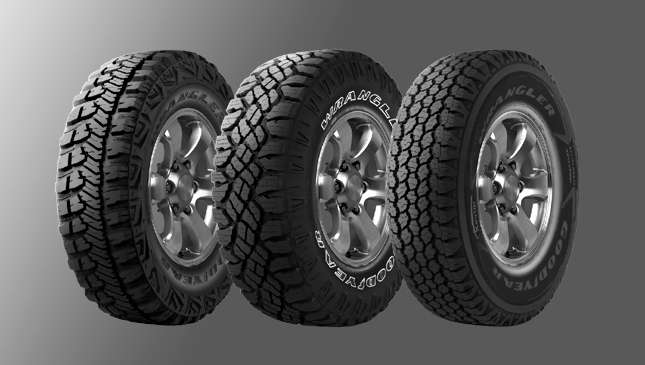 SUVs have always been some of the most versatile vehicles around thanks to their big size, raised ride height, and ability to rough it up off the beaten path. What's more, they're becoming more capable with every passing generation. Still, there's always room for improvement, right?
This is Goodyear's line of thinking with the release of the company's new SUV tire range aimed toward helping SUVs adapt to their owners' "complex requirements." Whether you're adventurous or prefer to keep your driving on the road, the tiremaker believes it has something for you.
First up is the new Goodyear EfficientGrip Performance which was designed for premium SUVs. This model prioritizes comfort, and comes equipped with tech and tread for dampening road noise and reducing tire wear. The company also says that it performs better on wet surfaces thanks to an "optimized microstructure."
Continue reading below ↓
Recommended Videos
Meanwhile, the Goodyear Wrangler All-Terrain Adventure with Kevlar is geared more toward the "weekend warrior." It's Kevlar-reinforced and suited for the great outdoors, but also performs admirably on the highway. The new Wrangler Duratrac on the other hand offers better traction in mud while maintaining ride quality on paved roads—a "perfect workhorse tire," Goodyear calls it.
Last but definitely not the least is the Wrangler MT/R with Kevlar "for serious off-roaders only." This one is the most capable of the bunch and is for anyone who will "go out of their way to push their skills and their SUVs to the absolute limit," the company says. It has 3-ply sidewalls to provide cut and puncture assistance.
"Whether you are a doting parent who likes to take your family on the occasional outing, or an adrenaline junkie who loves the freedom and the adventure of pushing a beast of an SUV to its very limit, Goodyear makes a tire perfect for your SUV and your unique lifestyle," says Goodyear Philippines market director Kenneth Sambajon.