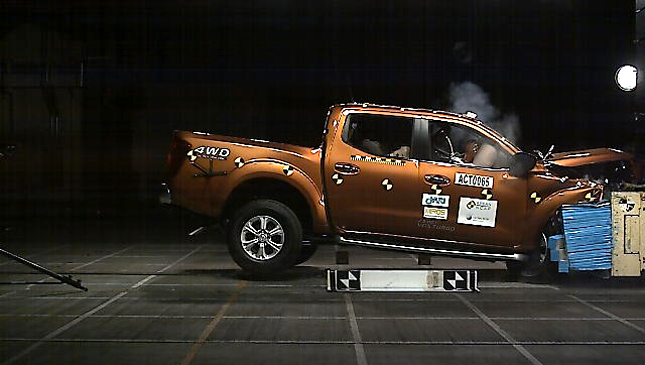 The rainy season has officially arrived, and along with it an increase in the number of vehicular accidents. Sure, you can drive with care. But at the end of the day, you can only do so much to keep yourself and your passengers safe from harm. So just how prepared is your vehicle for when an out-of-control car comes sliding toward you on a slippery highway?
The New Car Assessment Program for Southeast Asia (ASEAN NCAP) might have a few answers for you. Six locally available vehicles underwent the organization's testing to determine their levels of safety for both adult (AOP) and child (COP) occupant protection, and now the results are out.
Hyundai Eon owners might want to invest in some protective head gear as the small passenger car received an abysmal zero-star AOP rating. It didn't fare much better COP-wise either, receiving only a one-star rating. Take note: An actual Philippine-spec unit was used in the trials.
Meanwhile, the Nissan Navara and X-Trail received four- and five-star AOP ratings, respectively. The X-Trail crossover also managed to achieve a four-star COP rating, while the Navara settled for a two-star COP rating. Overall, it was a decent showing by Nissan during the tests.
Two Suzuki vehicles--the Ertiga MPV and the recently launched Ciaz subcompact sedan--both drove away with four-star AOP ratings, although they only managed to score two-star ratings for COP.
Lastly, the Isuzu MU-X got a four-star rating for both AOP and COP. Below are the test scores of the six vehicles:
* Hyundai Eon - 0.00 AOP score; 27% COP compliance
* Isuzu MU-X - 11.87 AOP score; 73% COP compliance
* Nissan Navara - 12.34 AOP score; 37% compliance
* Nissan X-Trail - 15.10 AOP score; 72% COP compliance
* Suzuki Ciaz - 14.56 AOP score; 37% COP compliance
* Suzuki Ertiga - 12.39 AOP score; 33% COP compliance
We wonder if a head-on collision with a brakeless six-wheeler truck was part of the tests. You know, to take into account the Philippine real-world setting.