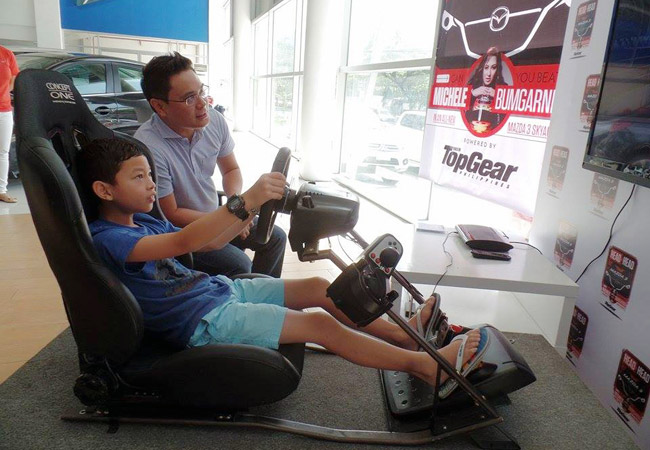 What's the next best thing to racing against a professional driver who represents our country at international motorsport events? Well, it's riding shotgun with her, of course!
That's the rationale behind Category B of the "Head to Head: Can You Beat Michele Bumgarner in an All-New Mazda 3 Skyactiv?" event. Only participants who are at least 18 years old and with a driver's license and a valid passport are qualified for Category A, which is the category that gives participants a chance to race against Bumgarner.
For a more fun-filled activity, the elimination leg that happened last weekend also welcomed anybody who wasn't qualified to race against Bumgarner. They (including kids) all raced to vie for a spot in Category B's 10 best times. The reward? A joyride with the Road To Indy driver in a Mazda 3 around the event track in SM Mall of Asia on June 21.
To these 10 Category B winners, congratulations! And to those who missed the weekend qualifiers, you are very much welcome to join the festivity this Saturday. Admission is free, of course. See you there!
Category B shotgun riders
Rank
Name
Best lap
Mazda dealership
1
ARMAND VINCENT MARCAIDA
01:51.358
GREENHILLS
2
JUSTIN GARCIA
01:51.711
GREENHILLS
3
JAMES ANDREW PEREZ
01:52.070
ALABANG
4

GERHART SANTOS

01:53.

575

PASIG

5

GIAN CARLO AVILA



01:53.

810

ALABANG



6
RIO HALILO
01:54.147
PASIG
7
JUAN MIGUEL MENDOZA
01:55.264
ALABANG
8
JUAN MIGUEL JIMENEZ
01:56.132
ALABANG
9
PAOLO RAMOS
01:57.146
ALABANG
10
DAVID SOLIMAN
01:57.729
ALABANG
Continue reading below ↓
Recommended Videos