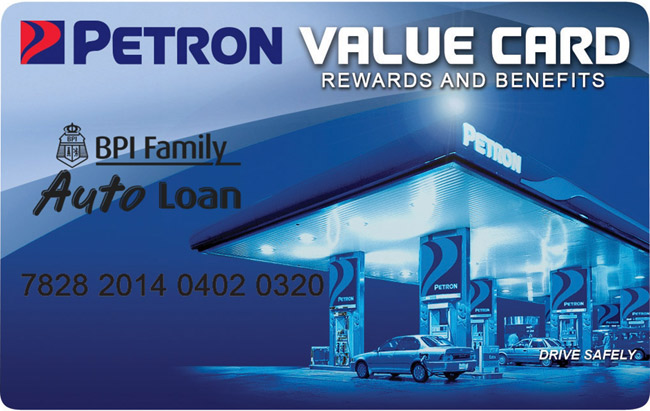 Since car owners regularly fuel up their vehicles, they might as well benefit from the expected purchase by availing of loyalty cards. BPI Family Auto Loan is now offering such a card.
If you successfully secure a car loan through the bank from January 5 to March 31, you get a motorist value card that will entitle you to special deals and privileges. Called the BPI Family Auto Loan-Petron Value Card, this card has the following perks:
* Accumulated points that you can use to pay for products and services at over 1,200 participating Petron stations (every P250 worth of fuel purchased from Petron via cash or credit card earns a cardholder one point);
* Discount of P1 per liter of gasoline and additional points until March 31, 2015;
* Special dining, personal care, and travel-and-leisure discounts from partner establishments.
In addition, a free personal accident insurance comes with the BPI Family Auto Loan-Petron Value Card. The card also offers its holder peace of mind, as it has free 24-hour roadside assistance and towing services. Free essential information services (24/7 traffic situation and road conditions) are also available.
Should a cardholder's car suddenly break down or figure into an accident, personal assistance is available. It could be in the form of a service car, hotel accommodations, ambulance or hospital services (subject to applicable terms and conditions, of course).
ADVERTISEMENT - CONTINUE READING BELOW ↓