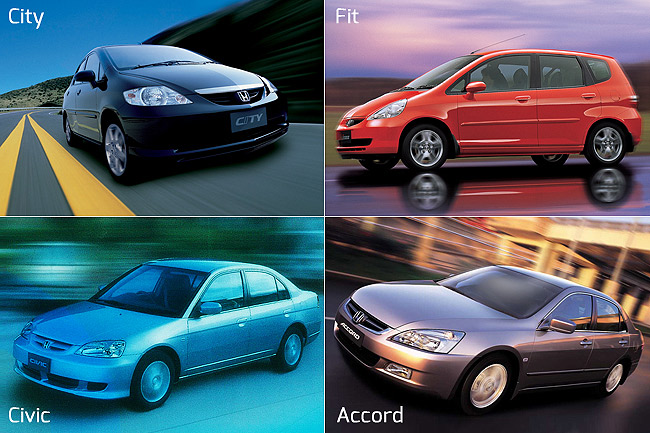 Honda Cars Philippines has announced the voluntary safety recall of select units of the Jazz, the City, the Civic and the Accord sold in the country because of the front-passenger airbag's faulty inflation device.
Covering 1,760 units in the Philippines and an estimated 2.1 million Honda vehicles worldwide, this notice is part of a global recall of vehicles following a Honda Motor Company report involving faulty front-passenger airbags. According to the press statement, "the report traces the cause of the faulty airbags to the automatic rejection system machine's failure to detect defective airbag inflators containing low-density propellants." Subsequently, the defective airbag inflation devices from the supplier were inadvertently installed during the assembly of the affected vehicles. Thus, upon airbag deployment, the pressure increases excessively and might cause the inflator case to rupture.
This worldwide recall involves the replacement of the affected inflator, but there has been no reported case of abnormal passenger airbag deployment or any crashes (or injuries) related to this issue.
ADVERTISEMENT - CONTINUE READING BELOW ↓
Here is the table of information of the vehicles included in the safety measure: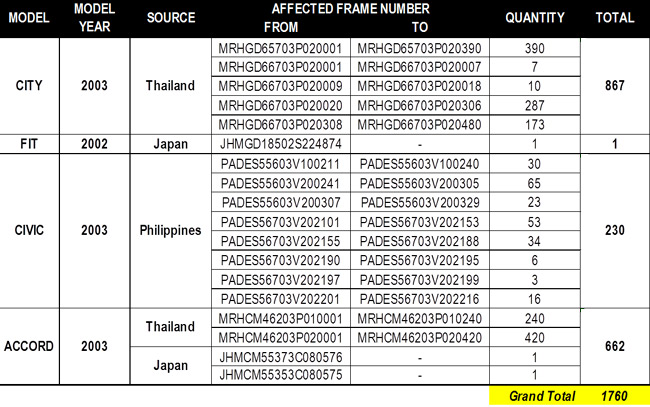 Concerned customers will be notified via correspondence from HCPI and via phone by Honda dealers. The Japanese carmaker encourages affected unit owners to take their cars to an authorized dealer where the defective inflator will be replaced for free. If you have previously owned an affected vehicle and sold it, you are requested to report to the dealership so that the new owner will be informed of this safety recall.
ADVERTISEMENT - CONTINUE READING BELOW ↓
Recommended Videos
Because this is a global safety recall, replacement parts supply is limited and will come by batches. For an orderly servicing, call your respective dealer for a service appointment. You may also call Honda at (02) 857-7240, e-mail customer_relations@hondaphil.com, or visit www.hondaphil.com for the complete list of frame numbers of the affected vehicles, inquiries and details of scheduling. Servicing will be on a first-come/first-served basis.
Replacement will take about an hour and will be performed at all 32 authorized dealers and three service centers nationwide. Repairs will start on July 31, 2014.
The Japanese carmaker notes that owners of other Honda units that are not affected by this recall should not worry because their airbags were assembled during a different period. HCPI's safety recall is a "proactive market action" that is in accordance with Honda's own standards.
"We sincerely apologize for the inconvenience we have caused our customers and other people involved in this matter," said HCPI president and general manager Toshio Kuwahara. "Rest assured that we are conducting different measures to prevent the recurrence of this problem. Our customers' safety is always Honda's top priority. Please bear with us as we conduct this safety campaign."
ADVERTISEMENT - CONTINUE READING BELOW ↓