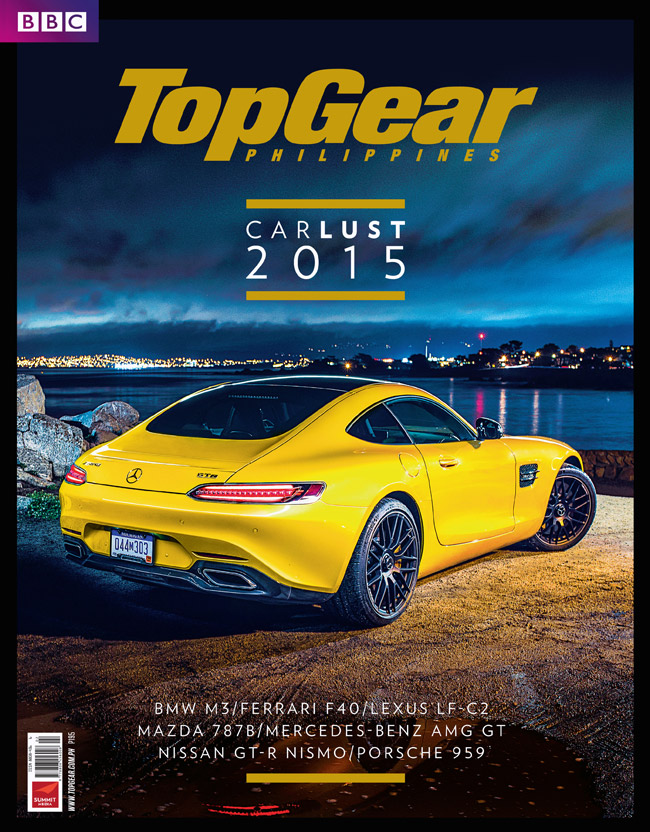 For several years, you grew accustomed to buying our annual magazine special, "The Roll-Out Issue." For this year, we're officially retiring that once-a-year release and replacing it with this one: Car Lust. That's primarily because the editor of The Roll-Out Issue, Dinzo Tabamo, already moved to our website.
As its title implies, Car Lust is all about automotive pornography. It's a must-have for all car enthusiasts as it offers page after page of impeccable car photography (the accompanying short articles are worth the read, too). Edited by Paulo Rafael Subido, Car Lust is like an elegant coffee-table book if the table belonged to a hopeless gearhead. It includes classic sports cars, modern supercars, futuristic concept cars and timeless race cars.
The maiden issue has the Mercedes-Benz AMG GT on the cover, and features such cars as the Nissan GT-R Nismo, the BMW M3, the Maserati Alfieri, the Lamborghini Huracan, the Lancia Stratos, the Chevrolet Corvette, the Ferrari LaFerrari, the Ford Mustang Shelby GT350, the McLaren F1, the Lexus LF-C2, the Audi Sport Quattro and the Mitsubishi Lancer Evo VI among many others (with emphasis on many others).
Below is a sampling of the automobiles that can be found inside this special publication. Grab a copy for just P195. We guarantee this will be a cool addition to your bookshelf--and an awesome gift, too. Just see for yourself.
Continue reading below ↓
Recommended Videos