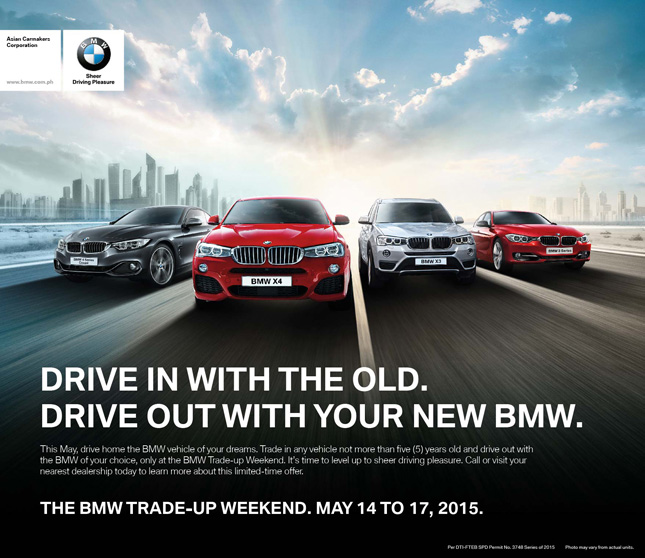 Attaining the ultimate driving machine just became a little easier. From May 14 to 17, official BMW distributor Asian Carmakers Corporation will host a "Trade-Up Weekend" at all accredited BMW dealerships across the country.
Current or potential customers can just walk into a BMW showroom, have their car--of any brand, by the way--assessed, and use their vehicle's trade-in value, based on its condition and model, as down payment. Also, the vehicle to be traded in must not be older than five years.
ACC president Maricar Parco is optimistic about the local market, as she sees increasing demand for better offers and sales incentives: "BMW remains driven toward inspiring people to explore the joy that comes with owning a BMW car. With the BMW Trade-Up Weekend, more Filipinos can now experience the innovations unique to the brand."
Whether you want the classic 3-Series, the newer X4, or the more family-oriented 2-Series Active Tourer, this weekend may just be the best time for you to look for a deal.
ADVERTISEMENT - CONTINUE READING BELOW ↓
ADVERTISEMENT - CONTINUE READING BELOW ↓
Recommended Videos