If you're viewing this on a mobile device and can't see the video, please click here.
I'd be the first person to tell you not to take brand ambassadors seriously. I seldom do. I'm a huge Michael Jordan fan but I don't buy ridiculously priced Air Jordans just because he flashes his winning smile while marketing these as the coolest basketball shoes on the planet. When I'm reminded of how much he makes peddling those overrated sneakers, I immediately become cynical and tune the advertising out. And I almost always end up purchasing something else.
The same is true in the automotive industry. I mean, seriously, which sane person would believe that power-hungry LeBron James actually rolls around in a Kia? Not dissing the Korean carmaker, but I have no doubt he'd be traveling in blinged-out American SUVs or bagged Italian supercars if it weren't for the insane amount of money he'd been paid to put his royal stamp of approval on the K900 sedan.
ADVERTISEMENT - CONTINUE READING BELOW ↓
And then, once in a leap year, a celebrity who's also a genuinely good person comes along and tries his hand at this automotive marketing thing. I'm talking about Zoren Legaspi, who, together with son Maverick, is now endorsing the Chevrolet Trailblazer. Okay, I don't really know Zoren personally, but how, you ask, do I know he's legit? Well, I saw him deliver that sublime marriage proposal to Carmina Villaroel four years ago, and I'll be damned if that wasn't a first-rate gentleman who made even guys weak in the knees. No way in this made-for-PR world could that spiel have been scripted. At this point, I just want to fist-bump Zoren for showing other men how to properly treat a lady.
Elsewhere, I also heard and read how Zoren was really cool and responsible and kind. An all-around nice fellow, if all the showbiz articles I'd read were true.
When no less than Chevrolet Philippines marketing senior vice president Lyn Buena personally told me about this new partnership, the first thing I wanted to know was whether my bro Zoren was for real. I needed to get this out of the way because I wanted unequivocal assurance that the man-tears I had shed watching his romantic declaration on YouTube had not been a waste of my time.
ADVERTISEMENT - CONTINUE READING BELOW ↓
Recommended Videos
"They're good people," Lyn told me. "Mahusay na mga tao. Mavy, in particular, was very humble. He had no airs about him."
Now, before you dismiss it as mere marketing-speak, understand that Lyn is like my sister, my longtime friend, my drinking buddy. She would have definitely told me if Zoren and son had been a pain in the exhaust pipe to work with. We exchange the nastiest of rumors, to be honest. But she had only the nicest things to say about their new father-and-son brand ambassadors.
"We are very happy to have Zoren and his son Mavy on-board with our efforts to get more Filipino families to love a Chevy," said Chevrolet Philippines president Atty. Albert Arcilla in a statement. "The dynamics between this father-and-son duo capture what our brand represents, that Chevrolet cars are built for the joy of a great driving experience and for creating happy memories and road trips with family and friends."
ADVERTISEMENT - CONTINUE READING BELOW ↓
I would have sneered at this particular quote from the official press release had I not seen my man Zoren's marriage proposal and had Lyn not vouched for his character.
I would have raised my eyebrow at the sight of my dude Zoren and Mavy doing father-and-son stuff with a Trailblazer.
I would have laughed at Mavy's answer when asked why he loved the Trailblazer: "Because it's the best like my dad."
I would have sneered and raised my eyebrow and laughed if this had been LeBron James professing his fondness for a Korean luxury sedan. But this is Zoren Legaspi, man.
I'm sold.
ADVERTISEMENT - CONTINUE READING BELOW ↓
ADVERTISEMENT - CONTINUE READING BELOW ↓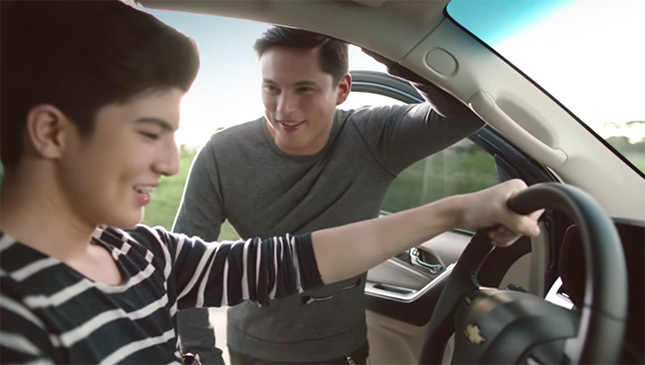 ADVERTISEMENT - CONTINUE READING BELOW ↓