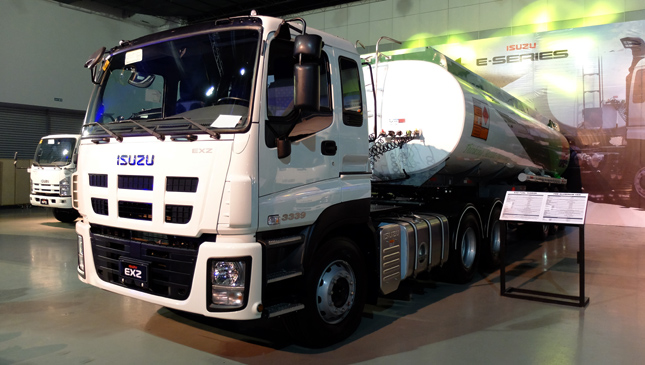 In most cases, transportation is something no self-sufficient business can go without. Whether you're just starting out or already making a name for yourself in your industry, reliable trucks or vans for moving goods and personnel are something worth investing hard-earned money in.
If you happen to be in search of a ride for your business, then you're in luck. Isuzu Philippines is holding its annual Truck Fest until April 16 (it started yesterday) at SMX Convention Center in Pasay City. The event showcases the company's diverse range of trucks presented in different applications and sizes, and business people from as far away as Visayas and Mindanao are expected to be in attendance.
With the theme "Trucks For Life," Truck Fest 2016 features a 19-vehicle lineup. Everything from Isuzu's light-duty N-series models (the country's best-selling commercial vehicle) to the brand's heaviest E-Series trucks is on display. Dump trucks, cement mixers, flatbeds, refrigerated models--if it's an Isuzu truck you're looking for, chances are you will find it here.
Customers who purchase vehicles at the event can take advantage of freebies and promos like P10,000 worth of LTO registration, P10,000 worth of fuel cards, and P10,000 worth of parts coupons. Isuzu personnel will also be on hand to guide and advise customers through the buying process.
Continue reading below ↓
Recommended Videos
Isuzu Philippines president Hajime Koso says that one of the keys to the company's success in the commercial vehicle market is customer trust.
"Isuzu trucks are not merely figures in our company's sales report, but are a testament to the security and assurance that they provide to customers," he said.
The name Isuzu has been associated with trucks for as long as we can remember. And with truck shows like this, that reputation is going to be there for a whole lot longer. The event is definitely a must-visit occasion for business owners looking to beef up their transportation fleet.
Photos by Drei Laurel