When it comes to building heavy-duty trucks, two brands come to mind: Isuzu and Volvo. These two manufacturers have established for themselves quite the global reputation in producing not just sturdy light commercial vehicles but reliable commercial trucks as well.
Now, these two truck makers have signed a non-binding memorandum of understanding as they take further steps toward finalizing an official strategic alliance. Through this intended alliance, the Volvo Group and Isuzu Motors will share resources and technologies to further strengthen the heavy duty truck business. The alliance will also result in Isuzu acquiring the complete global ownership of UD Trucks from Volvo, which aims to accelerate the growth of the business. The two companies will also explore other opportunities together, which may also include a future collaboration in producing light- and medium-duty trucks.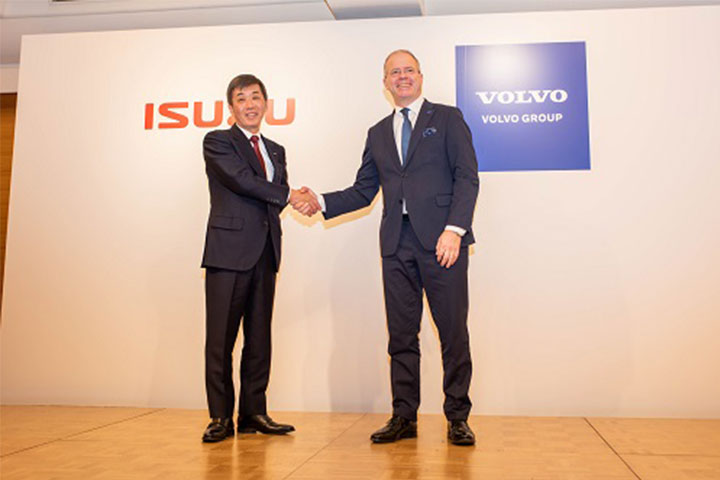 Continue reading below ↓
Recommended Videos
"The Volvo Group and Isuzu Motors have a well-established relationship on medium-duty trucks in Japan based on mutual respect, shared values, and win-win spirit. We see great potential to extend our cooperation within technology, sales and service as well as other areas going forward, for the benefit of our customers and business partners," said Volvo Group president and CEO Martin Lundstedt. "Our UD Trucks colleagues have done a great job to improve performance in recent years and the alliance opens up a great opportunity to continue the successful journey."
"Isuzu Motors and the Volvo Group strongly believe in the business opportunities and synergy potential between the two Groups. We intend to derive the full value from each other's different specialties across product and geographical strongholds. Our collaboration will actively contribute to service improvements and strengthened customer satisfaction as well as to prepare ourselves for the forthcoming logistics revolution," added Isuzu Motors Limited president and representative director Masanori Kayama.
Isuzu and Volvo are expected to sign binding agreements by mid-2020 and close the transaction by the latter part of the year.
We don't know about you, but this seems pretty exciting. What do you think?