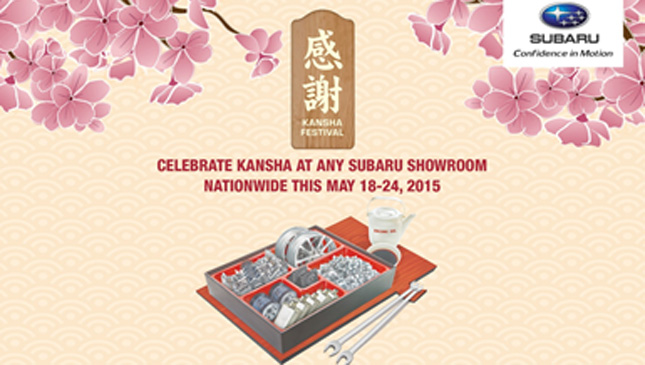 By this time, loyal Subaru customers are already familiar with the Kansha Festival. Indeed, some may already look forward to this regular event staged by exclusive Subaru distributor Motor Image Pilipinas.
The Kansha Festival is also known as customer appreciation week, and was originally adapted from the Japanese national holiday Kinro Kansha no Hi, or Labor Thanksgiving Day. During this week-long activity, Motor Image will be giving away exclusive offers on Subaru vehicles, accessories, parts, after-sales service, and cool merchandise. There will also be a service clinic that will provide a free 25-point safety checkup in all the authorized dealers.
The next Kansha Festival is happening on May 18-24, and all Subaru dealers are extending service hours from 7am to 7pm for the duration of the festival. So if you're either thinking of buying your first Subaru, or are already a current owner, it's a good idea to mark these dates on your calendar. If you're the latter, make sure your Subaru is in tip-top shape for the summer road trip season.
Who knows, maybe this is your opportunity to snag that Forester or XV you've been eyeing?