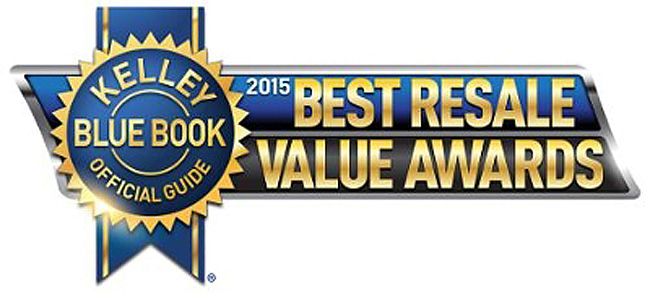 US-based automotive research and vehicle valuation company Kelley Blue Book has named Subaru and Lexus as the best brand and best luxury car brand, respectively, for its 2015 Best Resale Value awards. The awards were given in recognition of their vehicles "for their projected retained value through the initial five-year ownership period."
Subaru and Lexus topped the awards for car brands by having its models claim three and six, respectively, of the 22 overall categories. Chevrolet and Toyota also made an impression by each having five models earn the coveted honor.
"Lexus notably captured the top luxury brand honors for the fourth year in a row, and after previously winning the brand award in 2011, Subaru is back on top again for 2015 as the best mainstream brand for resale value across its entire lineup," said Kelley Blue Book director of residual value consulting Eric Ibara. "While both Subaru and Lexus deliver incredible resale value, we also are impressed with the strides made by General Motors, which tops domestic automakers with seven combined awards for Chevrolet and GMC. The entire list of Top 10 Best Resale Value vehicles is dominated this year by trucks, SUVs and crossovers, which is a testament to the strength these categories will carry in the future."
Here is the complete list of Kelley Blue Book's 2015 Best Resale Value award winners:
2015 Best Resale Value (Brand) - Subaru
2015 Best Resale Value (Luxury Brand) - Lexus
2015 Best Resale Value: By vehicle category
Subcompact car - Honda Fit
Compact car - Subaru Impreza
Sporty compact car - Subaru WRX
Midsize car - Subaru Legacy
Full-size car - Dodge Charger
Entry-level luxury car - Lexus RC350
Luxury car - Lexus GS350
High-end luxury car - Lexus LS460
Sports car - Chevrolet Camaro V6
High-performance car - Chevrolet Corvette
Hybrid/alternative energy car - Toyota Camry Hybrid
Plug-in vehicle - Porsche Cayenne S E-Hybrid
Compact SUV/crossover - Jeep Wrangler
Midsize SUV/crossover - Jeep Wrangler Unlimited
Full-size SUV/crossover - Chevrolet Suburban
Luxury compact SUV/crossover - Mercedes-Benz GLK-Class
Luxury midsize SUV/crossover - Lexus GX460
Luxury full-size SUV/crossover - Lexus LX570
Hybrid SUV/crossover - Lexus RX450h
Mid-size pickup truck - Toyota Tacoma
Full-size pickup truck - Toyota Tundra
Minivan/van - Toyota Sienna
ADVERTISEMENT - CONTINUE READING BELOW ↓
2015 Best Resale Value: Top 10 cars
Chevrolet Colorado
Chevrolet Silverado
Ford F-150
GMC Canyon
GMC Sierra
Honda CR-V
Jeep Wrangler
Toyota Tacoma
Toyota Tundra
Toyota 4Runner
ADVERTISEMENT - CONTINUE READING BELOW ↓
Recommended Videos