As the Philippine automotive industry works toward getting back on its feet, the sales promos keep coming. And as we've been saying, if you're in the market for a brand-new car these days, you're in luck. 
One brand that has maintained the momentum of its promos is Kia Philippines. After the Ayalas took over last year, the Korean brand has been reinvigorated and has launched several noteworthy models. But the pandemic spared no car brand when it hit. 
This October, Kia PH kicks off the final quarter of 2020 with an extension of its Worth the Drive sales promo. Without further ado, here's the complete list: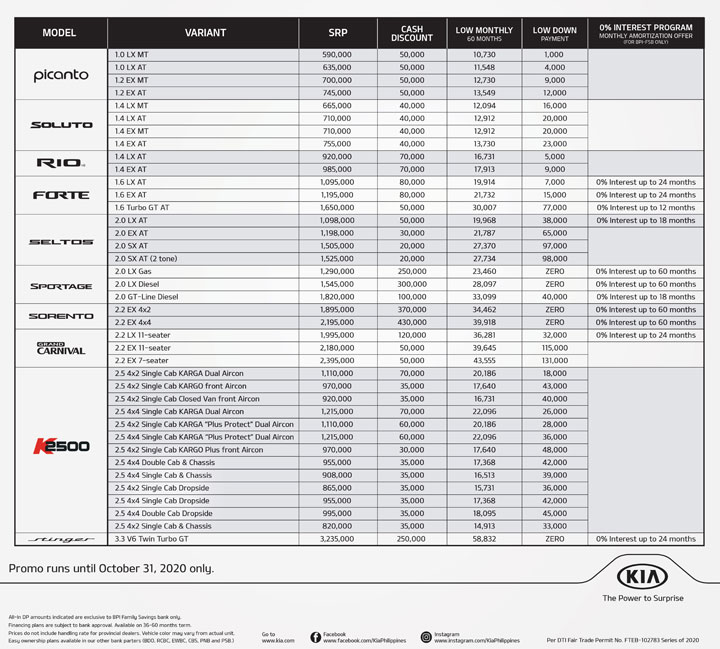 As you can see practically the whole lineup has a deal of some sort. But the SUVs seem to be the most enticing. Forget the low down payment options, those are financial traps. What's amazing is the zero interest option up to 60 months for two Sportage variants and both (outgoing generation) Sorento trims. That's practically unheard of in the industry, where 24-month zero interest plans used to be considered daring. And that's on top of big discounts of up to P300,000 for the Sportage LX Diesel and P430,000 for the Sorento 2.2 EX 4x4.
ADVERTISEMENT - CONTINUE READING BELOW ↓
The base Grand Carnival also gets a six-figure discount and up to 24 months zero interest. The handsome Forte lineup also gets good terms, but not as long as the ones for the SUVs. And if you're willing to live a little, the sexy Stinger is P250,000 off.
For those who want a workhorse for their business, the K2500 utility vehicle has special deals as well. 
We know the material says cash discount, but if you're enticed by Kia's good-looking lineup lately, we suggest you inquire at your nearest dealership. You might be pleasantly surprised at what showrooms have been offering. 
All locally sold Kia passenger vehicles now have a warranty for five years or 160,000km, whichever comes first. The K2500 has a three-year or 110,000km warranty, whichever comes first. There's also free 24/7 Roadside Assistance for five years. 
Again, these look like awesome deals. Good enough for me to spend an hour chatting with one of Kia's product specialists about the Sportage. I really like that they implemented Apple CarPlay liberally across the range. 
So, what are you eyeing?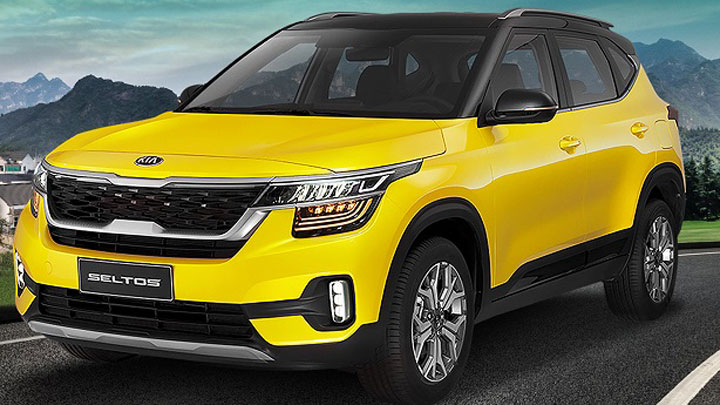 ADVERTISEMENT - CONTINUE READING BELOW ↓
Recommended Videos