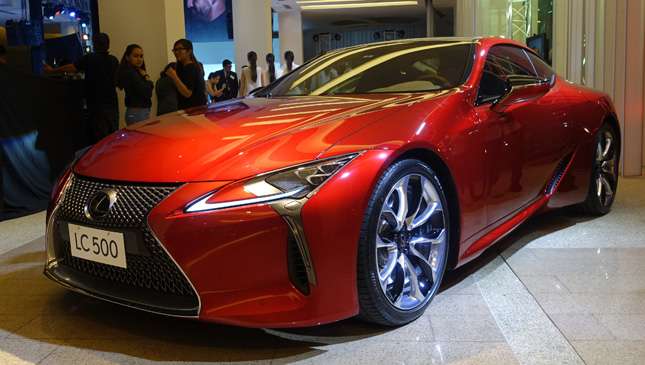 New year, new cars, new taxes. Unless you've been living under a rock, then you'd know that President Duterte recently signed the new Tax Reform for Acceleration and Inclusion (TRAIN) package into law, which will change the amount of taxes we pay in a huge way. Included in that law is a new set of excise taxes on cars.
While the rest of us have been indulging in delicious holiday food, car manufacturers have been busy preparing themselves to fall in line with the new laws. Prices have to be adjusted accordingly, you see. Below you'll find the new price list of Lexus models, as shared with us by a trusted source.
Continue reading below ↓
Recommended Videos
You'll notice that not all models are affected in the same way. Some, like the LX SUV, are slightly more expensive, while some are actually noticeably cheaper. Based on these figures, 2018 is a good year to buy hybrids. Interestingly, one of our favorite models, the IS, remains unchanged in price.
As Toyota Motor Philippines vice chairman Alfred Ty told us a few weeks ago, the new excise taxes aren't as bad as he and his group had first expected, and this is especially true for Lexus Manila.
According to Lexus, these new prices are set to kick in starting January 1. Take a look at the figures below, and let us know your thoughts about how they'll affect luxury car sales next year and beyond.
Model
2017 SRP (Pesos)
2018 SRP (Philippine Peso)
% difference
CT 200h
2,508,000
2,298,000
-8.37%
CT 200h F-Sport
3,328,000
3,008,000
-9.62%
IS 350
2,738,000
2,738,000
0.00%
IS 350 F-Sport
3,268,000
3,268,000
0.00%
ES 350
3,758,000
3,648,000
-2.93%
GS 350
F-Sport
5,408,000
5,028,000
-7.03%
GS 450h
5,908,000
4,708,000
-20.31%
GX 460
5,728,000
5,328,000
-6.98%
GS F
7,808,000
7,428,000
-4.87%
RC 350
3,768,000
3,658,000
-2.92%
RC F
6,078,000
5,598,000
-7.90%
RC F with Carbon Package
N/A
5,968,000
-
LC 500
9,008,000
9,328,000
3.55%
LS500L-5 Seater
8,568,000
8,908,000
3.97%
LS500L 4-Seater
N/A
10,728,000
-
LS500hL 5-Seater
10,448,000
8,898,000
-14.84%
LS500hL 4-Seater
N/A
10,478,000
-
LX 570
7,848,000
8,238,000
4.97%
NX 300
2,998,000
2,998,000
0.00%
NX 300 F-Sport
3,488,000
3,488,000
0.00%
NX 300h
4,098,000
3,458,000
-15.62%
RX 350
4,218,000
4,048,000
-4.03%
RX 350 F-Sport
5,058,000
4,708,000
-6.92%
RX 450h
6,118,000
4,848,000
-20.76%