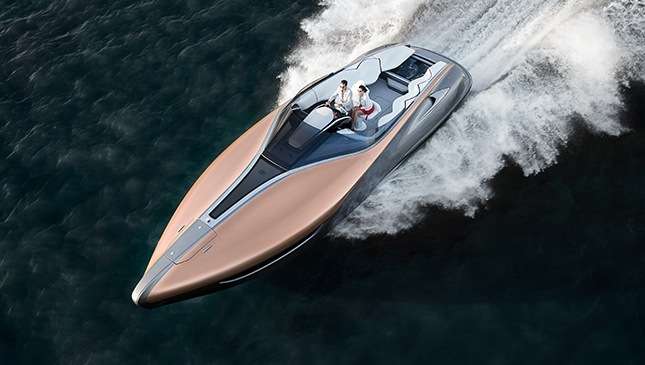 Chances are not many of you are aware Toyota has a marine department. Yep, the world's largest automaker is into making boats, too. A few years ago, the division built a range of premium performance yachts and invited Toyota president and Lexus chief branding officer, Akio Toyoda, to try them out.
The executive spent several days out in open waters with the vessels. The company says that by the end of his trip, Toyoda—a skilled driver—was very impressed by the vessel's handling and turbodiesel powertrains. He saw the idea's potential application under the Lexus badge, and not long afterwards, the marine department decided to further pursue the idea
The result is the proof-of-concept for a Lexus Sport Yacht recently unveiled by the company in Miami, Florida. Powered by twin 5.0-liter V8 gasoline engines capable of 440hp each, the yacht can carry six to eight passengers at speeds of up to 78kph.
Of course, the main draw here is the concept's luxury styling. Lexus vice president Yoshihiro Sawa says the project allowed the company to explore applying a Lexus design language to a maritime lifestyle. "For the Lexus Design Center this project has been very exciting. The effort is valuable to us as it stirs our creative energies and pushes our imagination to design and lifestyle possibilities outside of the automotive realm we know well."
The vessel's upper deck and outer hull are strengthened with carbon fiber reinforced plastic—the same tech used in building race cars like the Lexus LFA. This makes the concept about 1,000kg lighter than yachts which use fiberglass reinforced plastic, improving balance and handling at high speed.
Meanwhile, the cabin features a ton of premium leather, wood and glass components, sofa seating, a two-burner stove and under-counter fridge, a shower area, and an integrated entertainment system with 4G WiFi access. Typical seafaring tech includes GPS navigation, surface radar and underwater sonar.
So yeah, being jealous of Lexus clients won't be limited to car owners. Pretty soon even people lounging on the beach will be able to relate. Will we be seeing this beauty humming along Philippine shores? Considering how beautiful our beaches are, we hope so.