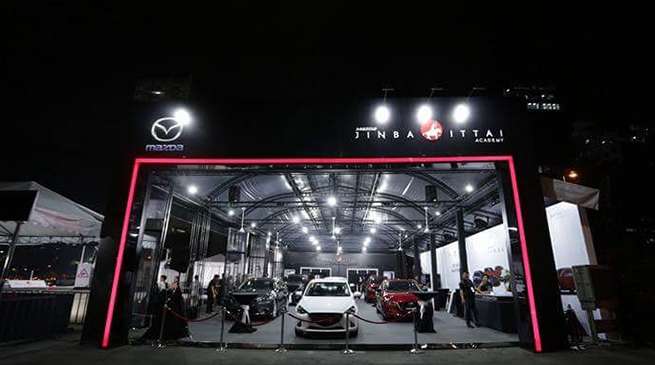 There's a pop-up test-drive course and pavilion that you have to visit this weekend if you want to test out some really cool cars. Calling all enthusiasts: If driving is your thing, you don't want to miss this.
Mazda as a brand prides itself in offering an engaging and fun driving experience throughout its model range. If you've driven a Mazda before, you will be familiar with what we are referring to. The company continues to draw on its rich history of fun-to-drive cars, and even today, its current models are a hoot to drive.
We've met Mazda's engineers on a number of occasions, and these guys continue staying true to the Jinba Ittai mantra. For the unfamiliar, the Jinba Ittai philosophy is a Mazda declaration that translates to "horse and rider as one." The company wants to highlight this relationship because all Mazda vehicles are meant to be driving machines, and enjoyment comes from the synergy between man and machine—rider and horse. Get it?
Continue reading below ↓
Recommended Videos
Jinba Ittai Academy, then, is an exclusive program in which select members from Mazda distributors around the world are sent to Japan to take part in an immersive driving curriculum. You will get a proper taste of what those lucky guys experienced by dropping by this weekend.
The CX-3, CX-5, CX-9, 2, 3, and 6 Wagon, are ready to take on drivers. Find out for yourself why Mazdas are so engaging and fun to drive. A high-tech feature that will be highlighted is G-Vectoring Control, which brings us even closer to handling perfection. If you haven't gotten behind the wheel of a Mazda before, this weekend is your chance to experience Jinba Ittai. You will be guided by driving instructors from the Automobile Association Philippines, and the friendly folks from Mazda will be there to answer any and all questions.
Jinba Ittai Academy is located at 9th Ave. cor. 38th St., Uptown Bonifacio, Taguig. Parking is just across the street, so there's no excuse to miss this exciting test-drive event.