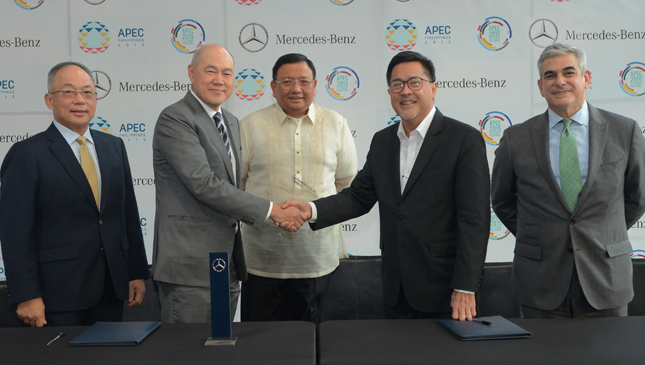 Similar to what Toyota has done, Mercedes-Benz will provide vehicles for the use of 2015 Asia-Pacific Economic Cooperation delegates. The official designation of Mercedes in this partnership is "premium mobility partner."
Present at the signing ceremony were Auto Nation Group (Mercedes's official distributor in the Philippines, otherwise known as CATS Motors) president Felix Ang, APEC CEO Summit CEO Guillermo Luz, Cabinet Secretary Jose Rene Almendras, ANG chairman Greg Yu, and APEC Private Sector chairman Jaime Augusto Zobel de Ayala.
The APEC is a 21-nation forum composed of member economies of the Pacific Rim, which includes the US, Canada, Australia, Japan and the Philippines. Its aim is to raise living standards and education levels through sustainable economic growth. Every year, it brings together heads of government, global business leaders, investors and industrialists. And this year, they're all converging here in our country. It's good to know they will be ferried in style.
For the 2015 APEC, Mercedes-Benz S-Class and E-Class sedans will be used for the VIPs. Riding a Chedeng will surely be familiar territory for the delegates, as it is estimated that more than 90% of world governments use a Mercedes for their leaders to use.
After the APEC, the S-Class and E-Class sedans used will be sold for a lower price than their market value. Considering how sparsely driven these Mercedes-Benz cars will be, they will surely be a bargain. Ask your CATS Motors salesperson about it.
Continue reading below ↓
Recommended Videos