The 2019 Manila International Auto Show (MIAS) is almost upon us. If you haven't freed up April 4 to 7 on your calendar yet (that's Thursday to Sunday this week), you had better get to it, because this is shaping up to be one hell of a display.
A handful of car manufacturers have major launches or presentations scheduled for 2019, including Ford Philippines, Chevrolet Philippines, a revamped Kia Philippines (which we believe will be bringing in the Stinger), Motor Image Pilipinas (with, of course, legendary drifting expert Russ Swift), Suzuki Philippines, and Jeep, just to name a few.
Now, we know what you're thinking: With that many launches and just a couple of day to visit, there might not be enough time to take in everything. Worry not, fellow gearheads, because pictured below is the full schedule for MIAS 2019. Check it out: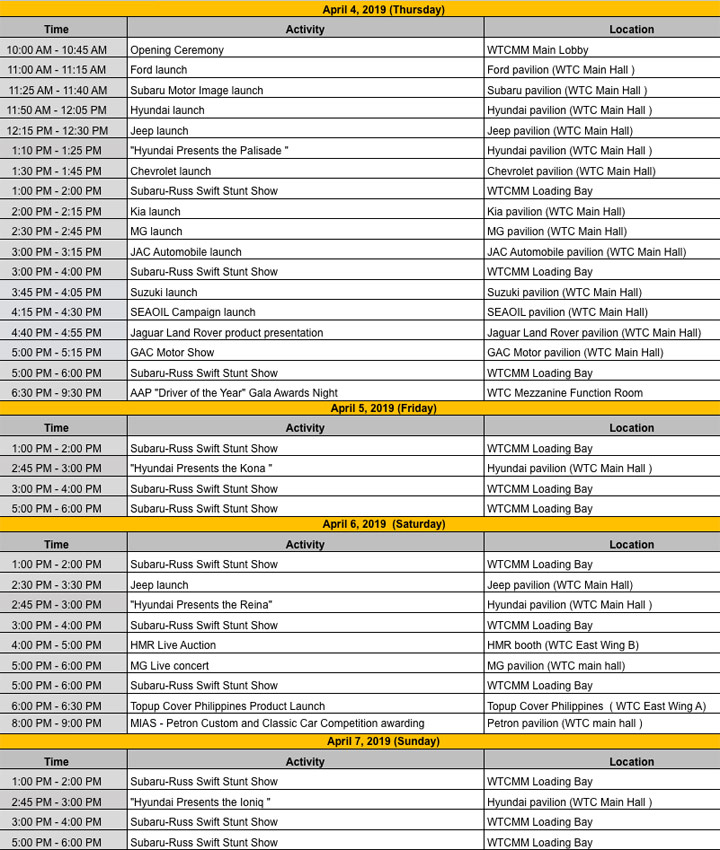 Continue reading below ↓
Recommended Videos
Basically, if you want to catch a ton of big introductions, you're going to want to be in attendance on April 4. If, on the other hand, you're looking for a ton of Russ Swift, best drop by on April 7.
It's really up to you how you want to go about your MIAS 2019 visit, but frankly, we think you should drop by on all four days, if possible. See you there!