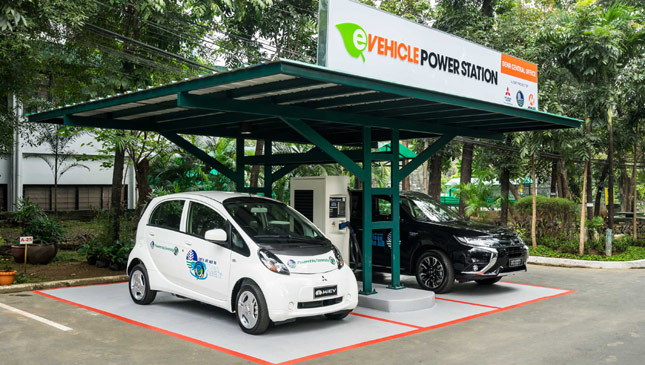 Tired of your daily dose of smog and dust during rush hour commutes? Don't worry, because you're not alone. Mitsubishi Motors Philippines Corporation (MMPC) just built an electric vehicle (EV) charging station at the Department of Environment and Natural Resources (DENR) central office in Quezon City. The move comes following a grant of 10 i-MiEV and Outlander PHEV units courtesy of the Mitsubishi Motors Corporation (MMC), MMPC's corporate parent.
The company isn't stopping there, either. EV charging stations are already lined up for the government agency's offices in Davao and Cebu, as well as the Department of Trade and Industry office in Makati City.
Continue reading below ↓
Recommended Videos
"We are already working with the DENR to conduct a study on how to reduce carbon emissions through the use of electric vehicles," says MMPC president Mutsuhiro Oshikiri. "The creation of a charging infrastructure is a crucial step in enabling the market growth of electric vehicles in the Philippines.
"Our partnership with the Philippine government provides a clear demonstration of how we at MMC and MMPC are working together with policy makers to encourage the adoption of cleaner fuels and to reduce CO2 emissions," he added.
These charging stations are equipped with 'CHAdeMO' quick-charging technology courtesy of Meralco subsidiary MSERV. The tech's unusual name is derived from the Japanese phrase "O cha demo ikagadesuka," which means "How about a cup of tea?" Why? Because the carmaker says this is roughly the amount of time it takes to charge an EV.
Could this be the beginning of our country's EV revolution? We certainly hope so.