Mitsubishi Motors Philippines is poised to participate in the government's Comprehensive Automotive Resurgence Strategy (CARS) program. This was the big announcement that Mitsubishi Motors Corporation CEO Osamu Masuko delivered this week.
The even bigger news? Once the application is approved, its Santa Rosa facility will start producing the Mirage hatchback and the Mirage G4 sedan by early 2017. Should everything go according to plan, there will be four Mitsubishi models rolling out of its facility, including the L300 and the Adventure.
The Japanese carmaker plans to invest about P4.3 billion to achieve this goal. To increase the local content rate and to help generate more jobs for Filipinos, Mitsubishi is also including a stamping facility during the first phase. The initial target is to produce 25,000 to 30,000 units in the first year. Once two daily production shifts are in place, the Santa Rosa plant is expected to increase the output to 100,000 units.
Before you get overwhelmed by the figure and start imagining all these Mitsubishi cars contributing to traffic, let us tell you that the locally produced units will also be exported to other markets in the ASEAN region.
"Mitsubishi Motors Corporation has been engaged in production and sales business in the Philippines for over 50 years," Masuko said in his speech. "The Philippines is one of the most important markets for us."
Mitsubishi Motors' parts suppliers are also said to be expanding their presence in the country by "building new plants, expanding their existing production base, and providing technology to local corporations," Masuko added.
ADVERTISEMENT - CONTINUE READING BELOW ↓
According to a Department of Trade and Industry statement last year, the CARS program offers fiscal incentives "to support new investments in fixed capital expenditures in new parts-making capability and to encourage large-scale production in vehicle assembly." The CARS program is estimated to generate about 200,000 direct and indirect jobs in the industry throughout its six-year duration.
Photos by Tracy Carpena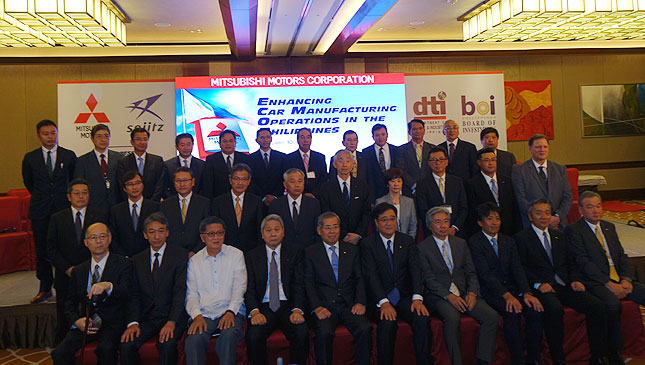 ADVERTISEMENT - CONTINUE READING BELOW ↓
Recommended Videos