Nissan is one of the many automotive brands today that have jumped onto the giant esports bandwagon. Just earlier this year, the Japanese carmaker sealed a partnership with two popular gaming franchises in Faze Clan and OpTic Gaming.
However, it seems that this is only a small part of Nissan's potential ventures into the world of esports. In light of the recent 'National Video Games Day,' the company has released sketches of its gaming chair concepts that have been designed based on the interiors of some of its very own vehicles: The Armada, Leaf, and GT-R Nismo.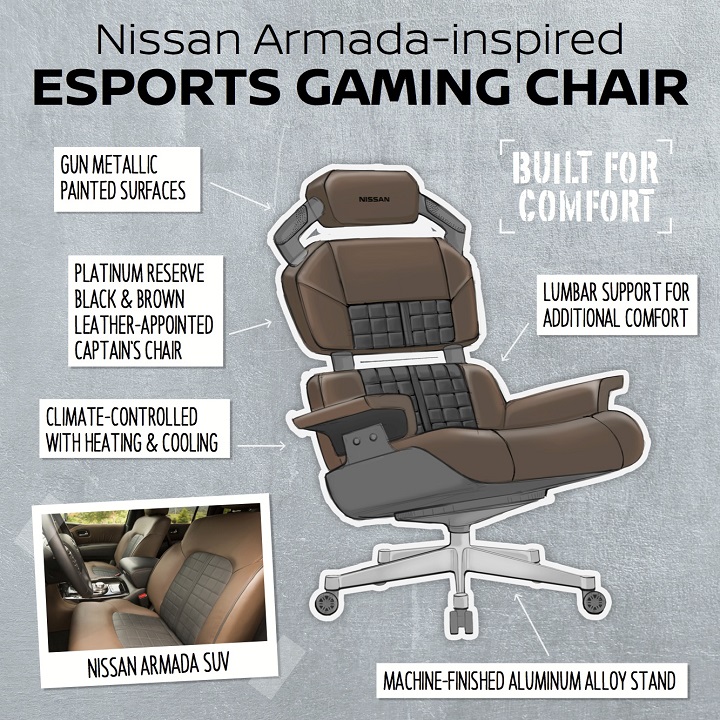 Continue reading below ↓
Recommended Videos
The Armada-inspired design has the most formal and office-appropriate style among the three, with brown leather upholstery completing the simplistic look. The Leaf design, on the other hand, looks like the most traditional of the released sketches. It features a clean, metallic finish contrasted with some blue trims all around. Meanwhile, the GT-R Nismo chair—like the car its design was derived from—sports a striking design that screams 'hardcore gamer' at first glance.
Nissan says that it still has no plans of building any of these chairs at the moment, but it has opened a poll on Twitter to gauge the public's reactions to the designs. Though we might not see production anytime soon, these concepts do get gamers like me excited.
So, fellow gamers, would you want to see these sketches come to life?