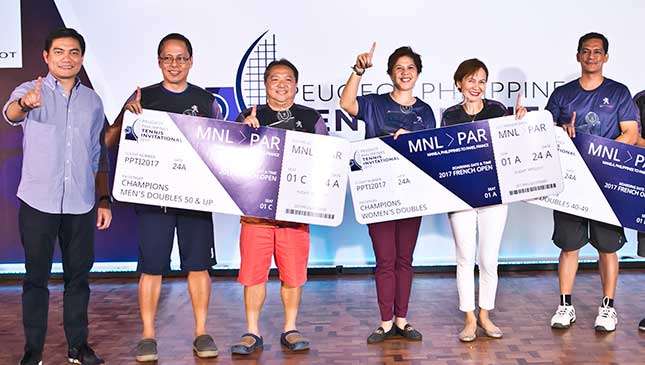 The Peugeot Philippines Tennis Invitational has come to a close. A total of 192 competitors signed up for this year's tournament, a testament to the French carmaker's efforts to expand the event's coverage, which now includes tennis clubs from all across the country.
Taking this year's Men's 50 and up title are Team Hillsborough-Lhuiller's Jackie Tomacruz III and Rolando Oliquino. The pair bested crowd-favorite Team Mandaluyong Tennis Club in the finals match with a straight win in two sets, 6-1 and 6-2. "I am really happy. Ecstatic, in fact. We joined for the love of the sport and now we are going to see the French Open live," Tomacruz said after the duo's victory.
In the Men's 40 to 49 division, Jason Demetri Benitez and Eddie Ventura from Team New Capitol Estate emerged as champions after defeating Arnold Reyes and Ramon Alconera, also from Team Mandaluyong Tennis Club, in the finals. The pair admitted they were surprised by the outcome, as neither of them expected to make it that far into the competition. "I wasn't really expecting us to reach the finals," said Benitez. "I'm happy because we got lucky."
Lastly, Michelle Mendoza and Ching Henson of Team Hillsborough-Lhuiller came out on top in the Women's 40 and up division after defeating Valle Verde Country Club's Odette Asperin and Sally Ong in a tiebreak. All the champions win an opportunity to watch the French Open live in Paris, France, as well as a tour of the company's flagship lifestyle store, Peugeot Avenue. Also joining the roster of winners are Manolo Fernandez and Naresh Ramnani of Team Valle Verde Country Club.
Peugeot Philippines president Glen Dasig has already announced that a second run of the Tennis Invitational will take place in October 2017--this time, for a chance to watch the Australian Open live. Will you be joining?