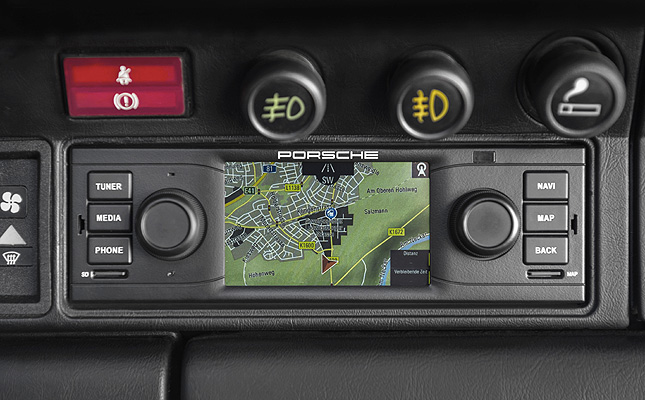 The problem with owning classic cars is that you'd like everything to look as period-correct as possible, which means installing a 2-DIN touchscreen entertainment and navigation system is out of the question. That won't be a problem for Porsche owners now since the German carmaker has created a navigation radio system that is "classic on the outside yet ultra-modern on the inside."
The system was designed by Porsche to fit perfectly into the 1-DIN slot of its classic sports cars, and is operated using two knobs, six integrated buttons, and a 3.5-inch touchscreen display. Thanks to the appearance of the black surface and the shape of the knobs and buttons, the system blends harmoniously into the dashboard of classic Porsche models, from the first-generation 911 to the last of the air-cooled 911 series known internally as the 993.
Despite its old-school look, Porsche's navigation radio comes with all the key features of today's system. Besides the low-interference radio reception and precise navigation, it has interfaces for various external music sources that can be controlled from the display, including Bluetooth for smartphones. The system also has a built-in microphone as well as an external microphone. In addition, the integrated amplifier can be connected either directly to the speakers or to the original sound system using an optional adapter cable. As for the navigation component, the maps are stored on a microSD card, and the driver can choose to use either two-dimensional or three-dimensional maps to display the route.
Porsche's classic-looking navigation radio system is now available from the carmaker's dealerships in Germany at 1,184 euros (nearly P60,000).