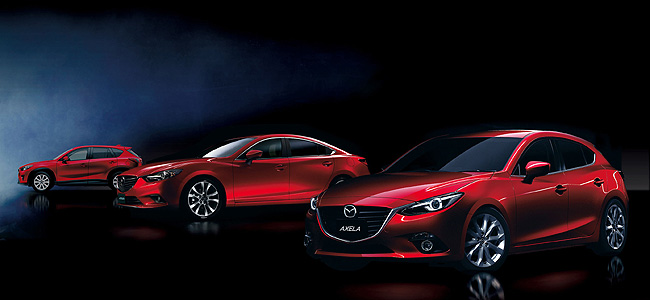 Production of Mazda's Skyactiv line of vehicles has reached the one-million-unit mark, with 1,040,000 units already produced as of the end of March 2014.
The CX-5, the 6 and the 3 all adopt Mazda's full range of Skyactiv technologies. According to the Japanese carmaker, the milestone was achieved approximately two years and four months after production of the CX-5 began in November 2011.
The Skyactiv technologies are "the result of an uncompromising overhaul aimed at improving the efficiency of the base components that dictate the fundamental performance of the automobile, such as the engine and the transmission, while reducing vehicle weight...without sacrificing the brand's renowned driving pleasure." In effect, Mazda redesigned its cars, from the chassis to the engines and suspension, not only to enhance their efficiency but to also improve their driving characteristics.
"At Mazda, we put everything into developing our Skyactiv vehicles, and it is because these models have struck a chord with a wide range of customers all over the world that we have reached the one-million-unit landmark," said Mazda president and chief executive Masamichi Kogai. "With our undying challenging spirit and a great deal of hard work, Mazda will continue to make even more appealing cars that will enrich the lives of their owners, and help us build a strong and lasting bond with our customers."
As of the end of March 2014, Mazda's three Skyactiv models are being produced in Japan, Mexico, Thailand and China, and sold in over 100 different countries and regions. Mazda reportedly also plans to expand its Skyactiv lineup with five all-new models being introduced by the end of March 2016.