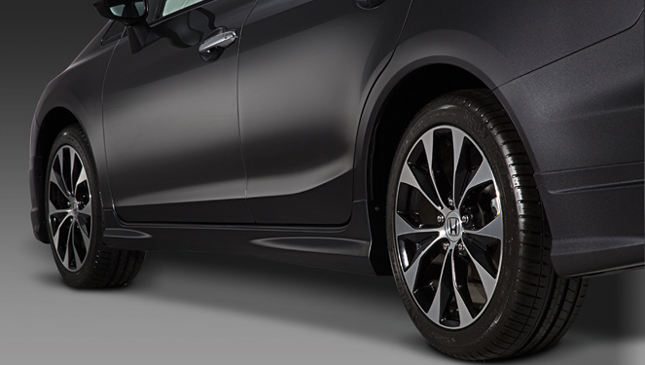 Honda has been known for its high-revving, naturally aspirated VTEC engines, but things could change soon as it adapts to a changing automotive landscape. With the introduction of the all-new turbocharged Civic Type R, the brand is starting to embrace turbocharging technology, which will eventually trickle down to mainstream models like the regular Civic.
According to Automotive News, the next-generation Civic is expected to come with a small-displacement turbocharged engine. This will allow the company to not only boost its fuel economy, but to also meet stricter emission standards, one of the things that prematurely killed the previous Civic Type R. The new turbo engine will have a displacement of 1.5 liters, with four cylinders. It should be able to match the power output of the current naturally aspirated 2.0- and 2.4-liter engines, sans the thirst associated with these larger powerplants. Not all models of the next Civic, however, will be making the transition to forced-induction engines. Some will still be available with naturally aspirated mills.
This isn't Honda's first venture into turbocharged production cars. Its JDM kei cars as well as the previous-generation Acura RDX had turbo engines. What makes this different is that Honda will finally be giving a globally known mainstream model turbocharged propulsion.
Honda's rivals like Ford and Volkswagen have already transitioned to turbocharged engines in Europe, and in recent years have also started to do the same in North America, where turbocharged engines on mainstream cars are not yet that common.
According to the report, a supplier in North America said that Honda plans to manufacture up to 200,000 units of the 1.5-liter turbo engine a year, and to begin production in the fourth quarter of this year. Honda has not yet announced any timetable regarding the availability of this new turbo engine in other regions. Let's hope this 1.5-liter turbo Civic makes it to our shores.
ADVERTISEMENT - CONTINUE READING BELOW ↓
What do you think of the Civic going the turbo route? Should Philippine-spec Civics get a turbocharged engine option, too?
ADVERTISEMENT - CONTINUE READING BELOW ↓
Recommended Videos