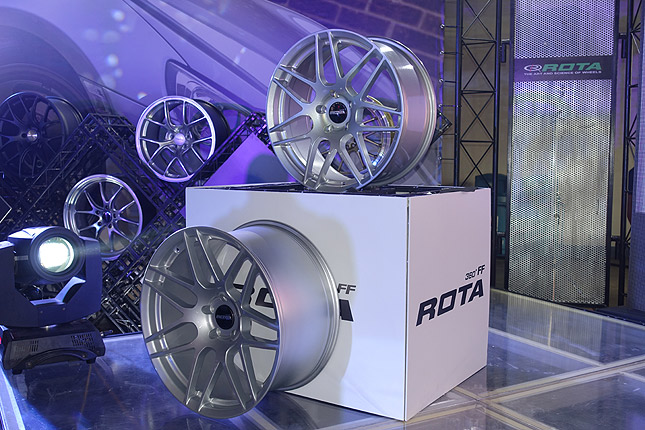 At motor shows, it's uncommon to unveil something that has no engine, sheet body, and four wheels. Newly available aftermarket products are introduced, yes, but they don't get the spotlight the way, say, the all-new Hyundai Veloster does.
On the opening day of the 2018 Manila International Auto Show, local wheel brand Rota had a slot in the program to reveal its new product. Why the attention? According to Philippine Aluminum Wheels Inc. (PAWI), the manufacturer of Rota Wheels, it is "taking the art and science of wheels to the next level."
How so? It has just launched a wheel (of course) that was made through the flow forging process. This is said to be the first in the country, and the new product is called the Rota 360-degree Flow Forged wheels.
Continue reading below ↓
Recommended Videos
In case you're wondering how this is manufactured, PAWI explained in a statement: "This is done by gravity-casting virgin ingots of high-grade aluminum, which is then heated and spun to form the wheel. In effect, flow forging combines the elements of making a cast wheel and a forged wheel, making it lighter and stronger than a cast wheel."
Wheels made through the flow-forging process are generally denser and sturdier, but lighter. Their elongation, which is the wheel's ability to bend before breaking, is also better. Think of elongation as a person's flexibility or capability to touch their toes. While flexibility of the human body is important in everyday activities, better elongation of a wheel comes handy when it runs over potholes.
Rota's 360-degree Flow Forged wheels underwent a series of impact, cornering, and radial testing methods that follow international standards.
"We are very excited to introduce the Rota 360-degree Flow Forged wheel," said PAWI president Michael Rojas. "Our new wheel is lighter, denser, and more durable than our high-quality gravity cast wheels. And because it's Rota, it's very affordable, too."
Certainly, a Filipino-made wheel that touts affordability and durability deserves some attention at a local motor show. Want these for your ride? The new flow-forged wheel will be available soon in our market and abroad. No pricing details have been revealed yet. We'll keep you posted.