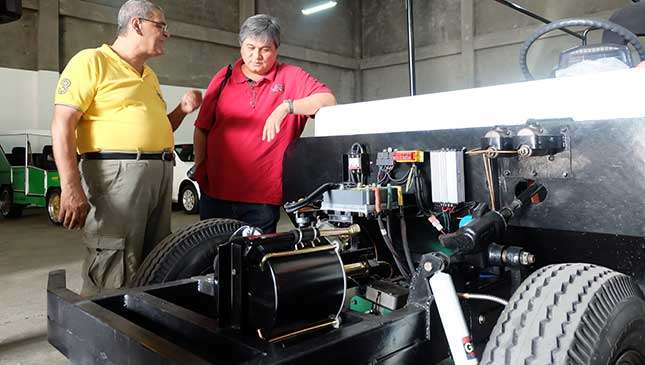 After almost two years, Engr. Youssef Z. Ahmad, chairman of Le' Guider International E-Trike Electronic Assembly Philippines, and Ed Sarao, of the famed passenger jeepney manufacturer Sarao Motors, recently met for the second time to talk about business possibilities.
On this occasion, the meeting of the two happened at Ahmad's main office in Pasay City, and they both zeroed in on a possible alliance for the manufacturing of jeepneys that will comply with the government's PUV modernization program.
To be implemented in January 2018, the program had set a 15-year age limit for passenger jeepneys on the issue of emission compliance and safety standards. A big chunk of about 270,000 passenger jeepneys will no longer be allowed to be registered at the Land Transportation Office (LTO), while the Land Transportation Franchising and Regulatory Board (LTFRB) was tasked not to renew their franchises.
Continue reading below ↓
Recommended Videos
These would trigger a mad scramble from the ranks of various jeepney organizations and cooperatives to look for viable and affordable alternatives.
In the meantime, Ahmad and Sarao think they have the winning formula. Even before Sarao arrived in the area, representatives of a jeepney cooperative from Laguna also went to Ahmad's place to check out his units. They needed replacements for their aging units.
"We are hoping to keep the traditional passenger jeepney alive, yet be able to help in protecting the environment," says Ed, son of the late Sarao founder Leonardo Sarao Sr.
With this premise, he's amenable to using electric motors to replace the internal combustion engines that powered the jeepneys his family made a fortune from after World War II.
Even with the decline in demand for passenger jeepneys using surplus engines, Sarao Motors kept its facility in Las Piñas. With the emergence of electric jeepneys, is Ed Sarao seeing the light at the end of the tunnel?
During his visit to Le' Guider's facility along Vergel Street in Pasay City, Ahmad briefed Sarao on the technical details of his electric jeepney powered by a 15kW permanent magnetic motor mated to a regular manual transmission. Ahmad says he's the only one on earth who assembles an electric motor that would work with an old school, clutch-activated gearbox. This means that Ahmad's jeepneys are equipped with clutch systems to shift gears, unlike all other electric vehicles that rely only on one gearing, similar to that of go-karts.
The electric motor and the technology that comes with the Le' Guider e-Vehicle are 100% home-grown and proudly Philippine-made. The electric motor runs on lithium-titanate batteries that have a life span of at least 10 years.
Commonly used on locally available electric vehicles are lead acid or lithium-ion batteries, but these last for only about two years and have charging times of at least eight hours. Ahmad says his lithium-titanate version only needs two hours to be fully charged.
Ahmad says he can convert a jeepney with a diesel engine into an electric-powered unit, and he has already drafted a plan to involve local government units in coming up with facilities for this purpose.
In addition to e-jeepneys and e-trikes which still use the traditional sidecar we see on the streets, Le' Guider also has the capability and technology to convert petrol cars like Mercedes-Benzes, Toyota Vioses, and Kia Picantos into fully electric vehicles.
Obviously, Ahmad's most potent weapon here is his electric motor, but he kept mum on its cost. Instead, he gave a rough estimate on the cost of his manufactured jeepney, which would run to about P2 million—but has very minimal maintenance expenses because it needs no oil change and calibration. Electric jeepneys run without exhaust systems, starters, and alternators.
On the other hand, a brand-new Euro 4-compliant diesel engine alone would cost around P500,000, which includes the fitting cost. And that expense grows over time because of costly wear and tear items. Ahmad says diesel-fed jeepneys could cost P4.4 million over a span of 10 years, compared to his electric jeep which still costs a little over P2 million thanks to almost no maintenance costs.
While I was preoccupied with mathematical computations, Ahmad took Sarao for a spin with his electric jeepney inside the facility with 20 other people on board.
Is Ed Sarao sold on Ahmad's technology? Abangan ang susunod na kabanata!