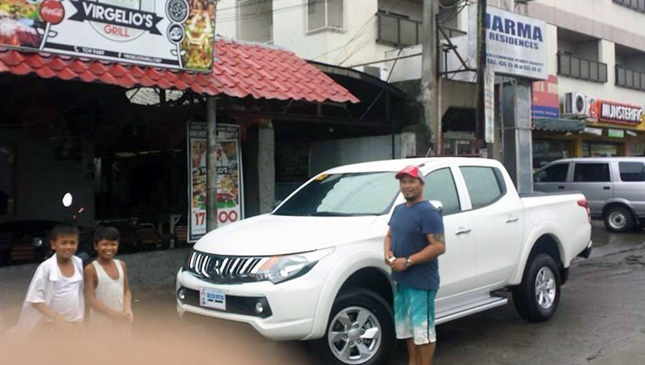 The photo you see above went viral on Facebook after a guy named Reinhard Celis posted it on his page on July 2nd. Celis, who is apparently a chef in Bacolod, wrote the following caption for the image (in italics and completely unedited):
I wanted to buy Isuzu DMAX then I went to Isuzu company but the sad story is they don't intertain me of what I wear, pasapasahan ko Nila salesman ky gin Ina gid Nila ang naka attire nga ga check man car, I approach the front desk to ask how much is the DMAX 4x4 and she answer me with a nonsense and to keep me wait for more than 5mnts, I ask the security why they don't intertain people just wearing simple dress and slipper? the guard just give a smile, this is what I wear when I went their, so I came back home sad, after a while I call my bank to deliver me strada pick up sports, after 2hrs it's here infront of me, learn and lesson for this people, don't ever judge your neighbor, they can look after your house while you are not around, wahahaha, now I have my new strada sports pick up truck.
In other words, Celis claimed that he had been ignored by Isuzu Bacolod when he went there to inquire about the D-Max pickup--supposedly because he had been wearing shorts and slippers. And so to spite the Isuzu dealership, he bought himself a brand-new Mitsubishi Strada.
Naturally, many social-media kibitzers sympathized with Celis, seemingly the underdog in this alleged customer-service fiasco. Many of them even sent us the link to the post, which was how we found out about the incident. We first learned about this on Monday, July 6. We had just returned from Sagada with key marketing executives of Isuzu Philippines Corporation, who had joined our road trip because our editorial staff had borrowed a small fleet of MU-X units for the journey.
We immediately contacted an IPC marketing officer and asked her to secure for us a statement from Isuzu Bacolod regarding Celis's claims. The IPC officer agreed and even mentioned the possibility of some CCTV footage. The whole of Tuesday passed and we didn't hear from IPC, until we were alerted to a couple of Facebook posts by Southern Auto Mart & Trading Corporation (the formal company name of Isuzu Bacolod) in the evening.
The first post was the company's official statement, attributed to president and general manager Bing Uy Jr. In the statement, the Isuzu Bacolod boss wrote (in italics):
ADVERTISEMENT - CONTINUE READING BELOW
We are very sorry about the unpleasant experience expressed by Mr. Reinhard Celis in our company, Isuzu Bacolod, last June 29, 2015. We have talked with the persons involved to get their side and have reviewed CCTV footage [taken] during the visit of Mr. Celis, and we have established that Mr. Celis was first misdirected to our Parts and Accessories Department, and was directed back to Sales, wherein he had a couple of minutes' wait before he was attended to by our Sales Executives, Ms. Tina Montero and Mr. Elmo Genosa, for about 20 minutes. Mr. Genosa also brought him to our motorpool area to show him some units. On his way out of our showroom, Mr. Celis talked to our guard, to whom he commented about not being properly attended to.
On behalf of the management and staff of Isuzu Bacolod, I would like to assure Mr. Celis and all our valued customers that we do not condone discrimination of any kind. Many of our regular customers visit us wearing slippers and casual attire, and they are always welcome to stay anywhere in our facility. While we are not discounting the possibility that our SEs did not exert enough effort to attend to Mr. Celis due to multiple deliveries we had at that time, we are positive that Mr. Celis was indeed attended to during his visit.
We thank Mr. Celis for his feedback. As always, we shall strive to be your responsible partner in Bacolod City.
The second post included a series of screenshots from what looked to be the above-mentioned CCTV video, supposedly showing Celis being led to different parts of the Isuzu dealership.
Celis, for his part, had posted this message (in italics) on his Facebook wall even before Isuzu Bacolod issued a statement:
I don't expect this to be a big deal. Now a lot of media people ask me a lot of questions. I feel so sorry for Isuzu, but this is meant to serve you a lesson--that everyone needs love and attention, rich or poor. Bless every Juan. Remember God is always watching us.
Well, there may have been some slacking-on-the-job that occurred somewhere, but we agree with Isuzu Bacolod's president that the Japanese carmaker indeed has a reputation for treating customers fairly regardless of the latter's standing in life. We're sure the dealership (not to mention the two sales employees) will learn from this episode. In this day and age of cutthroat competition and social-media awareness, a car dealer simply can't afford to drop the ball even for a fleeting moment.
ADVERTISEMENT - CONTINUE READING BELOW
As for Celis, we hope he enjoys his new truck. It's just a shame that what may have very well been a simple case of miscommunication deprived him of the pleasure of owning his original dream pickup.
UPDATE: It looks like Reinhard Celis has taken down his post as it's no longer visible on his Facebook page. The last time we saw it was when we were writing this piece.
Photos from the Facebook pages of Reinhard Celis and Isuzu Bacolod